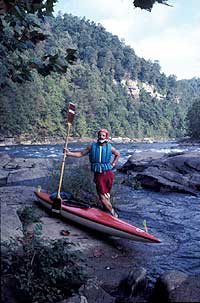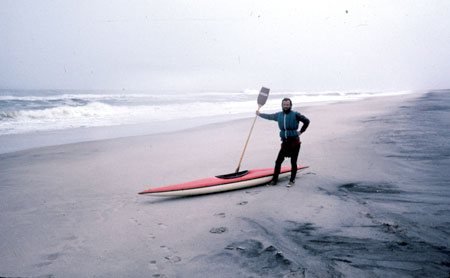 New River Gorge Outer Banks, catching a storm surge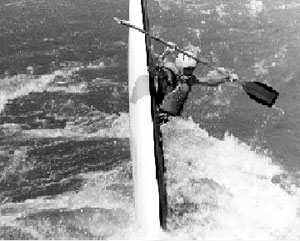 I started white water kayaking in the early 1970's. I did a lot of boating for a couple years before I started grad school. At the time I was working as the manager in the "High Adventure" department of Herman's World of Sporting Goods in Tysons Corner, VA. While working at Herman's I had a chance to do lots of fun stuff, including climbing, both ice and rock, backpacking and especially boating. I have been doing very little paddling since then. I have a new boat, but I am not used to the new generation of kayak hulls. I got trashed a couple of years ago, foolishly running a rapid on the Maury River (Hells Kitchen) that I was not ready for in one of the newer boats.
Most of my paddling was done in 11 foot fiberglass boats as seen in these photos, not the short, hot plastic hulls the today's paddlers use. Here some photos from 1973 trying to get some air out on the Rocky Island waves on the Potomac just below Great Falls. One nice thing about those big fiberglass boats, is that when you did an ender, you really got some "air".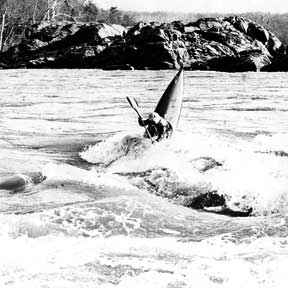 Here is a photo one of my old favorite little waves on the Virginia side just upstream from the Angler's Inn put in on the Potomac. The paddling styles today seem quite different than when I paddled. I mostly did river running and tried to find nice waves for front surfing. We tended to avoid holes, especially if they held you for a while, scary stuff. Today, seems like folks are not happy unless they are sitting or spinning in a hole. I have a few videos of the gonzo paddlers today, hard to believe that they are running that water.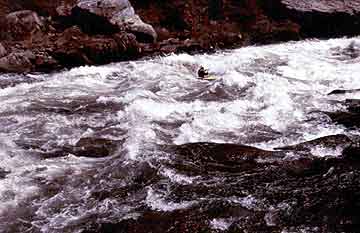 It also seems that the sport has become more dangerous for many new boaters. It's a lot easier to handle and maneuver the new generation of boats. So folks can end up in bigger water than they are ready to handle. I had been doing lots of paddling before I tried the Gaully River in West Virginia. This picture on the right is me wondering what I am doing coming up to "pillow rock" rapid on the Gaully River, summer 1975.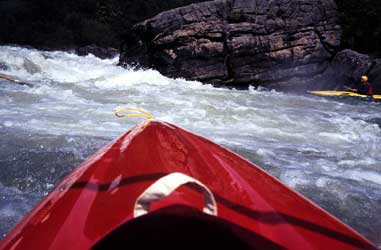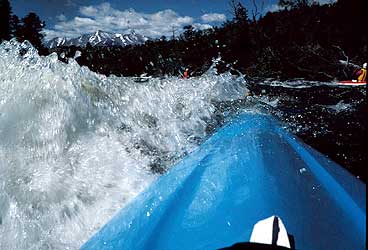 Just below Pillow Rock rapid on the Gaully The Arkansas River in Colorado
These photos are some I took while boating. I had a Nikon Nikons diving camera I wore on a rig around my chest when paddling. I could just point my chest, take my hand off the paddle and take a quick shot like this one somewhere in Colorado. I do remember well the Arkansas River Gorge I ran in Colorado. It seemed like a pushy Class 5 and we did not know if many folks had ever run it back in the early 1970's. Continuous run with no eddies for almost a mile. Below is a view of the gorge as we were scouting it, the water looked a lot bigger when we were in it. I actually dumped about half way through the run and came out of my boat, no fun....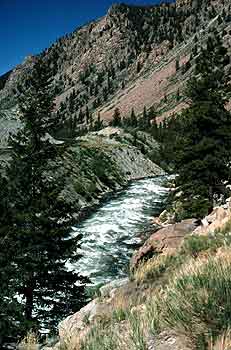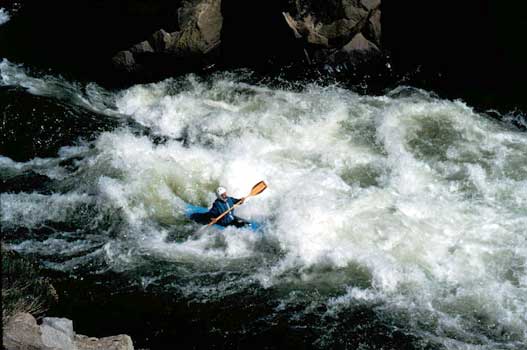 On the other hand, surfing the waves at Rocky Island on the Potomac River was my idea of fun. When the water level is right the set of waves make for some great front surfing action.