Ashtanga Yoga Classes on HSC Campus
For those that are interested, I am offering a free weekly class in an introduction to Ashtanga Yoga, which is a very active, fluid form of yoga that links breath and movement. This is an introductory or preparatory class that helps to cultivate strength, endurance, flexibility and mental focus. Classes are held at the at the Fitness Center in Kirby Fieldhouse on the Hampden-Sydney College Campus. The class is a mixed, being made up of both first-time and continuing students.
A new class starts up at the beginning of each semester and no previous experience with yoga is necessary to attend. Contrary to popular opinion, you do not have be flexible to do yoga and modifications for most of the postures will be provided. The class meets on Wednesdays from 5:00 to 6:30 pm. These classes are free of charge, but class size is limited, so please contact me about available space if you are interested in attending.
Anyone Can Do Yoga
As a result of my "adventures" over the years and the injuries I have sustained doing them, my yoga practice has always been difficult and slow going, but I have been patient. I started my asana practice in 1998 with a more gentle form of yoga called Integral Yoga. My motivation for trying yoga was out of desperation in an attempt to manage old injuries and to try to regain my lost flexibility. I had become very stiff over the last 30 years and my lower back and knees would "go out" regularly several times a year.
When they say anybody can do yoga at some level, I guess in my experience they are right. I have broken my arms on three different occasions, had lower back surgery, surgery on both knees at different times, I have injured my shoulders from too much kayaking resulting in dislocations, and I have ankle problems from multiple hard sprains, yikes....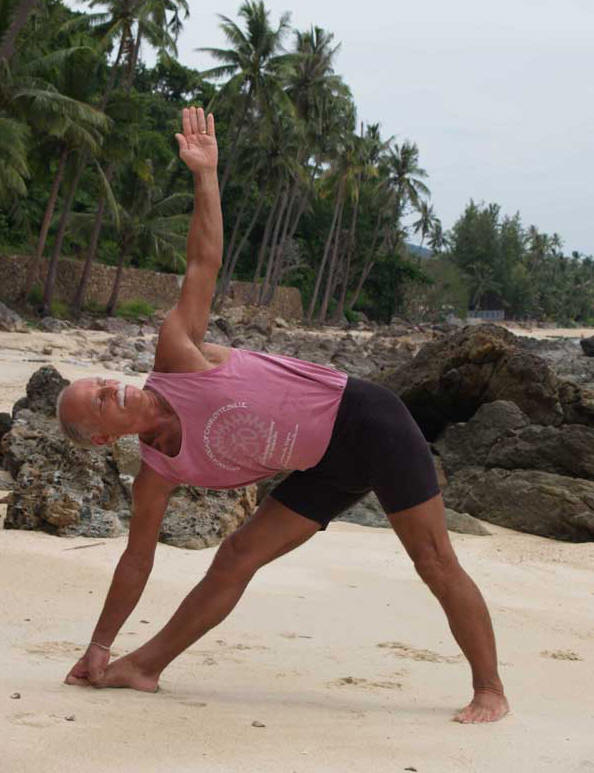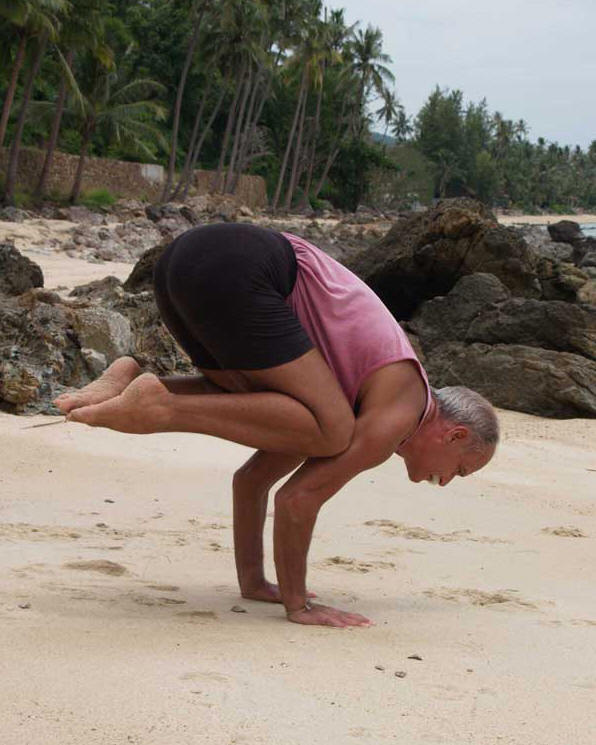 Playing on the beach at Yoga Thailand 2007
Yoga Training
In 1999 after a year of once a week-yoga classes and a mostly daily personal Integral Yoga practice I was starting to loosen up a little and some of my back pain was easing up. That summer I took a week-long workshop in an very active form of yoga called Power Yoga with Beryl and Thom Birch (http://www.Power-yoga.com) at the Omega Institute in upstate New York (http://www.eomega.org). When I showed up for the workshop I had never before heard of Power Yoga, the practice was very challenging for me, but I loved it. I really resonated to the philosophy and physical practice of Power Yoga which is based on the principles of Ashtanga Yoga. My personal practice now consists of an exploration of the Ashtanga Yoga Primary series of Ashtanga Yoga.
I have found it a challenge to maintain a personal practice without the support of a yoga studio in Farmville. As a result, I have tried to take classes and workshops from a number of teachers when time and funds have allowed. I apologize for all these names, but I wanted to provide links to some of the teachers I have studied with who include: Vance Selover (http://www.ashtanga.com), John Scott (http://www.ashtanga.co.uk/main.htm), Valerie Jeremijenko, David Oliver, Michael Gannon (http://www.yogagrove.com/HOME.htm), David Ingals (http://ashtangayogadc.com/main.html), Kevin Kimple, Kathy McNames (http://www.yogavermont.com), Michael Gannon (http://www.yogagrove.com/HOME.htm), Nicki Doane and Eddie Modestini ,(http://www.yogaonmaui.com/home/home.html), Paul Dallaghan (http://www.yoga-thailand.com/), Lino Miele (http://www.astanga.it/), Kino MacGregor (http://www.kinoyoga.com/) and others.
In addition I have taken a Power Yoga workshop from Bryan Kest (http://www.poweryoga.com) and Integral Yoga classes from Subhadra Jyothi, a wonderful local yogini from Yogaville, Virginia that we all miss greatly (http://yogaville.org/web.htm#contents). Although there are no yoga studios in Farmville, there are several excellent, experienced Ashtanga teachers at studios in Richmond at the Yoga Source (http://www.yogarichmond.com) and in Charlottesville at Ashtanga Yoga of Charlottesville (http://www.charlottesvilleashtanga.com/ ).
In addition to classes I have taken, over the last couple of years I have taken a number of yoga teacher training courses. This training has been from a number of different teachers in a number of different forms of yoga, including primary series teacher training in Ashtanga Yoga from David Swenson (http://www.ashtanga.net), and Tim Miller (http://www.ashtangayogacenter.com/), teacher training in Power Yoga from Beryl and Thom Birch and teacher training in Interdisciplinary Yoga from Don and Amba Stapleton http://www.nosarayoga.com/home.htm) and also teacher training in pranayama and asana with Dharma Mittra (http://www.dharmayogacenter.com/index2.htm). As a result I have accumulated around 300 hours of teacher training and am currently a registered yoga teacher with the Yoga Alliance (http://www.yogaalliance.com/VA.html) at the 200 hour level.
My motivation for taking these teacher trainings was not to become a yoga teacher, rather it was for a deeper immersion into the study of yoga to help me develop my personal practice. But over time I began to realize, that others may be interested in the practice and I should probably start offering a yoga class. It was with some apprehension that I offered a weekly Yoga class at HSC in the spring semester of 2002. In spite of my limited training and experience, I had a great time. I find that teaching yoga helps me develop my personal practice in new ways.
Workshop Photos
I was very fortunate to have the opportunity to do a intensive 200-hour, month-long teacher training in Interdisciplinary Yoga with Don and Amba Stapleton at the Omega Institute. This was a remarkable immersion into the study of yoga. The class was quite eclectic included study of anatomy, physiology, philosophy, asana, common assists, yoga sutras, chanting and an opportunity to teach classes. Don and Amba infused the training with their unique experiences and energy. Now if I can just figure out how to get down to Costa Rica to the Nosara Institute were Don and Amba are based for the next level of training......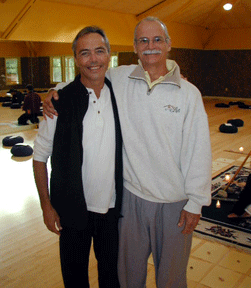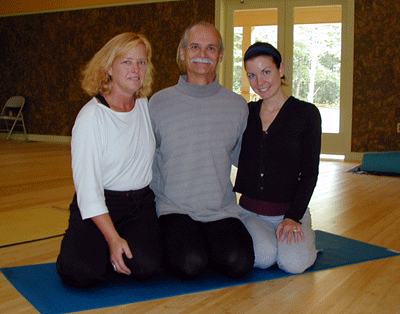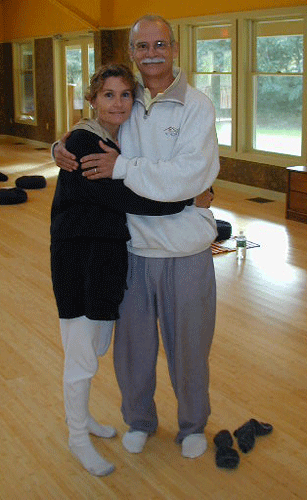 Don Friends at the workshop Amba
Unlike some yoga practices in which there is little physical contact between the teacher and students Ashtanga Yoga utilize a series of physical "assists". The assists are designed to help give the body memory for the proper alignment for the posture. At a recent Ashtanga teachers training with David Swenson, students worked extensively in pairs and we got the opportunity to try most of the common assists in the standing and primary Ashtanga series.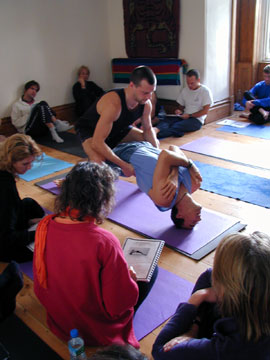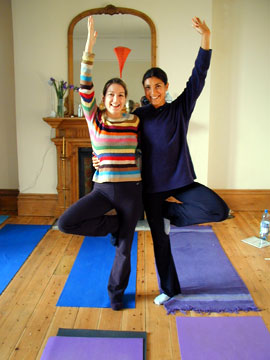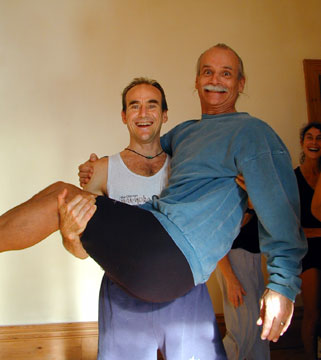 Tim and David Yoginis having fun David showing how to "take it up"
Another great Ashtanga teacher is Lino Miele, who has regular classes in Italy and occasionally comes to the US to offer workshops. Michael Gannnon was able to get Lino to give a workshop at his studio, Yoga Grove during Lino's US tour in 2002. This was a special honor, as Lino made only a few stops on his US visit. Below are a few photos from The Yoga Grove workshop. There was not much space in the studio, but that did not seem to matter much, good hosts, lots of good students and energy, and a great teacher, On the last day of the workshop, Lino led the class in the "full vinyasa" primary series, great experience, but don't look for me doing the full vinyasa for my self-practice anytime soon.....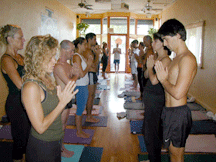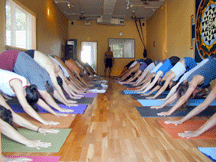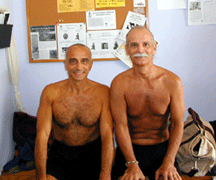 Start of Full Vinyasa Class Lots of Down Dogs Lino putting up with student photo ops..
Below is a photo of a weekend Ashtanga workshop I attended recently at the Yoga Barn (great practice space and wonderful hosts) in Charlottesville, VA. The workshop was an Ashtanga intensive given by Michael Gannon. Michael has been and will continue to be traveling and offering a lot of workshops this year. I recommend you try to get to one of these if you have a chance, he is a great teacher and offers a perspective on the practice as it is currently being taught in Mysore, India.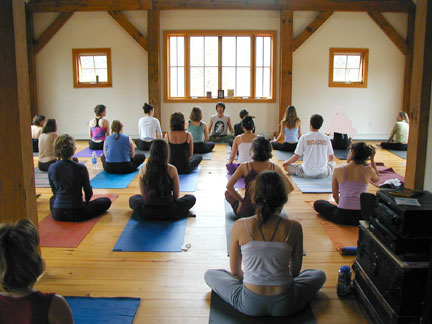 Ashtanga workshop with Michael Gannon at the Yoga Barn
Kevin Kimple, is a yogi that has studied in India and has done a series of workshops in Richmond at The Yoga Source. I had a chance to do a weekend workshop with Kevin which was great.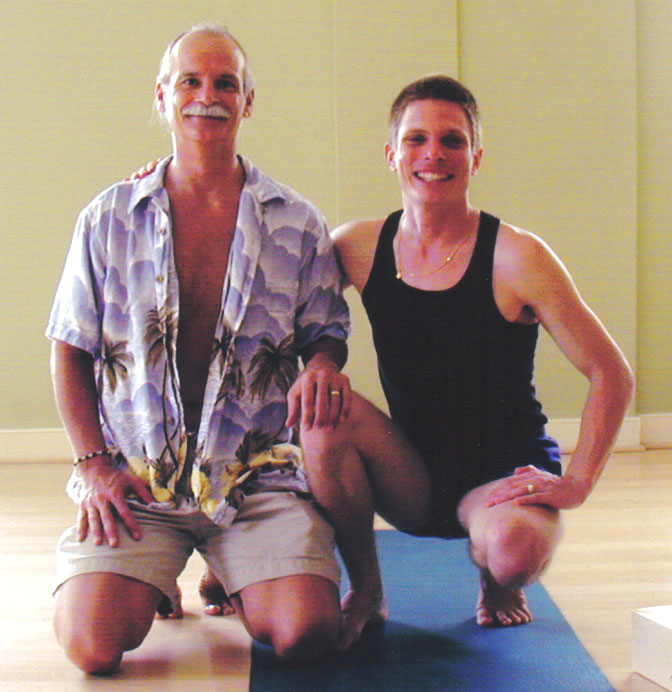 Ed and Kevin
I also had the opportunity to spend a week at the Omega Institute with a pair of wonderful teachers, Nicki Doane and Eddie Modestini. They have a beautiful studio in Maui but are doing some traveling and offering workshops this year here on the mainland. The workshop was an introduction to the secondary series of Ashtanga Yoga. This was an excellent workshop with Eddie and Nicki deconstruction the asanas and providing insights based on their long experience with the practice. These are two remarkable teachers and I recommend trying to study with them if you get the chance. Nicki has released several Ashtanga videos that I enjoyed and are worth checking out.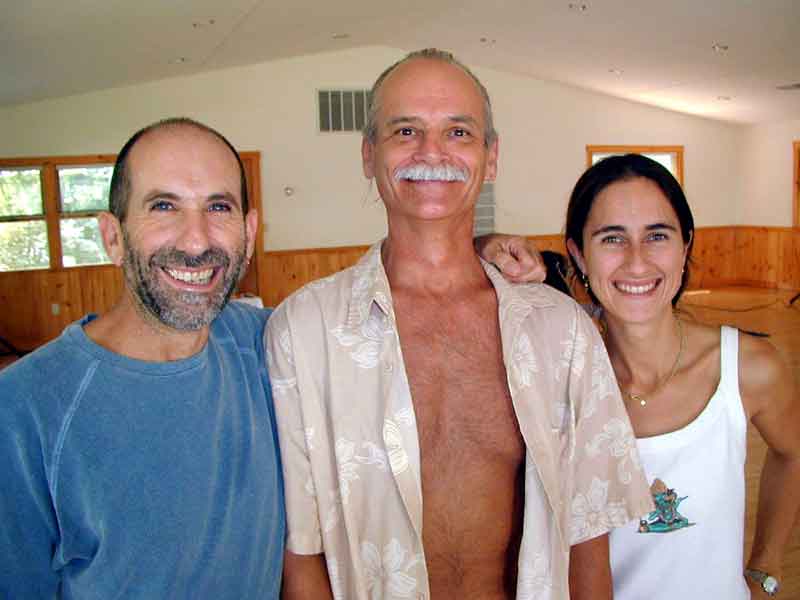 Eddie, Ed and Nicki
Over the Spring Break of 2004 I took a wonderful 12-hour workshop at the Yoga Barn in Charlottesville with Kathy McNames. Kathy is the co-director of Yoga Vermont, a large studio that offers over 40 different yoga classes a week. She brought her family and an insightful perspective on how to maintain a personal practice, without getting caught up in "photo perfect" asanas. The workshop was on both the primary and secondary series (ouch) of Ashtanga Yoga, with lots of inversions and backbends thrown into the mix, great fun with great hosts.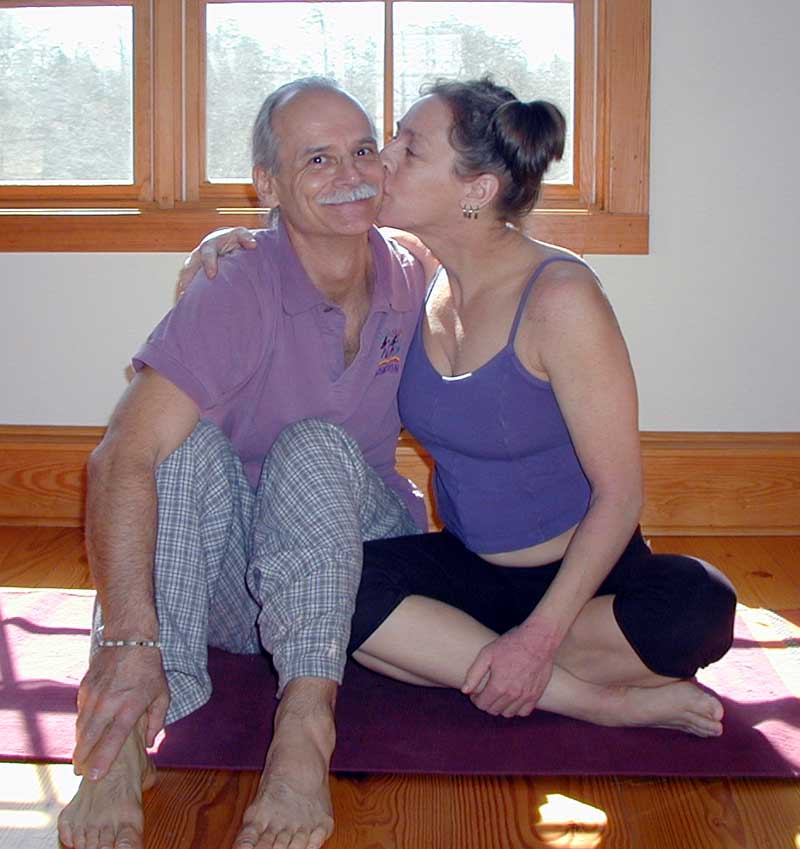 They sure have friendly teachers in Vermont, must be the cold winters....
In the winter of 2005 I attended a Saturday workshop at the Yoga Barn on Anusara Yoga with Disiree Rumbaugh. It was a great workshop with over 50 folks in attendance. It was my first introduction to Anusara Yoga with its focus on working from your center and heart. Disiree was full of energy and enthusiasm and made the class fun.
Photo Comming...
It was with great anticipation that I attended a three-day teacher training workshop in the winter of 2005 with Dharma Mittra at the Yoga Barn. I have seen his famous chart of yoga postures and have read his book on yoga postures and philosophy. Dharma has spent most of his life in service to humanity. Jennifer was a wonderful host at the Yoga Barn for the workshop and, as always, its a treat to meet new and old friends at these workshops.
I found Dharma to be a warm, humble and funny man that shared his experience in pranayama, matras, yoga philosophy, spiritual development and asana throughout the workshop. It was remarkable to see his sincere dedication to yoga philosophy as well as his physical stamina, and this in a man of over 60 years. I came back from this workshop full of energy, which surprised me, with all the asana practice that went on.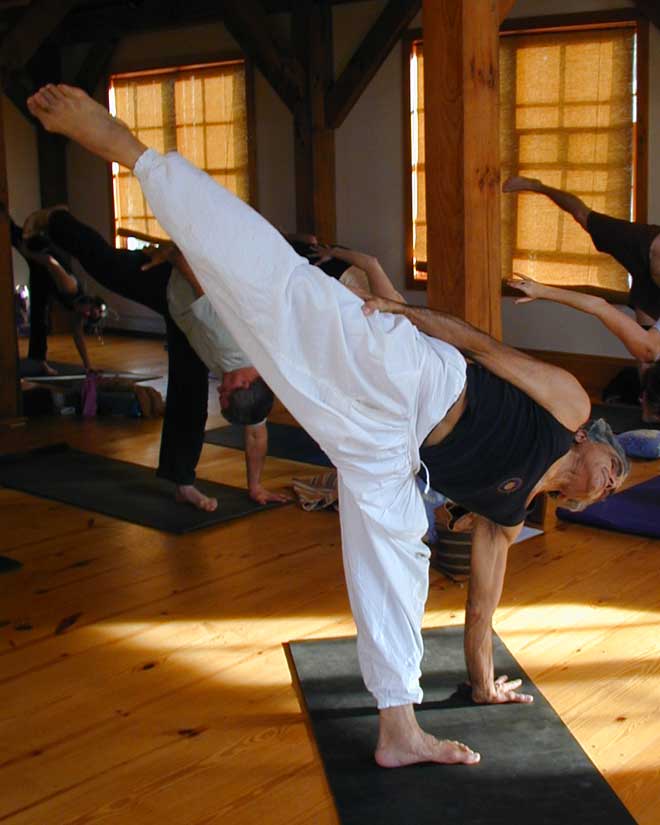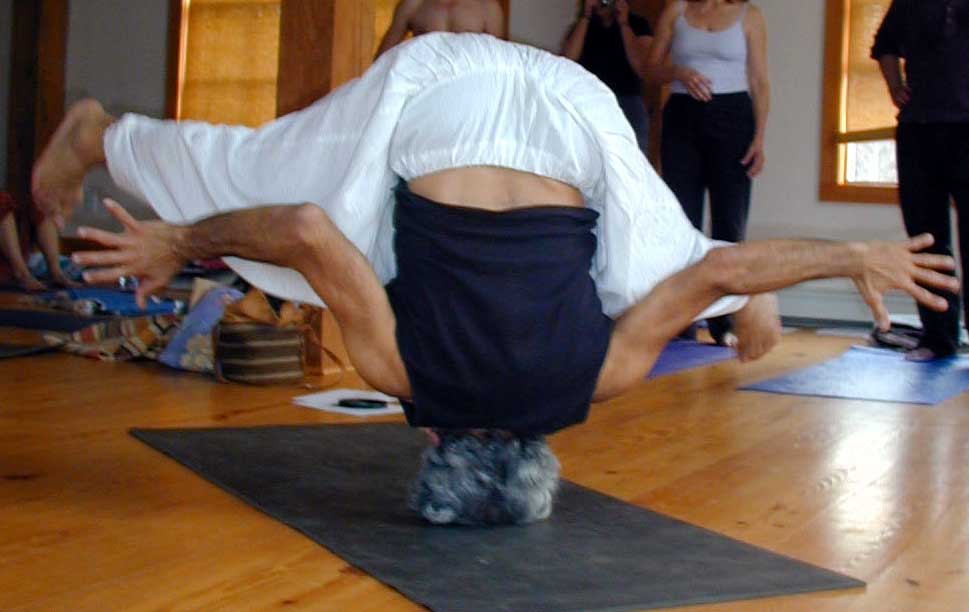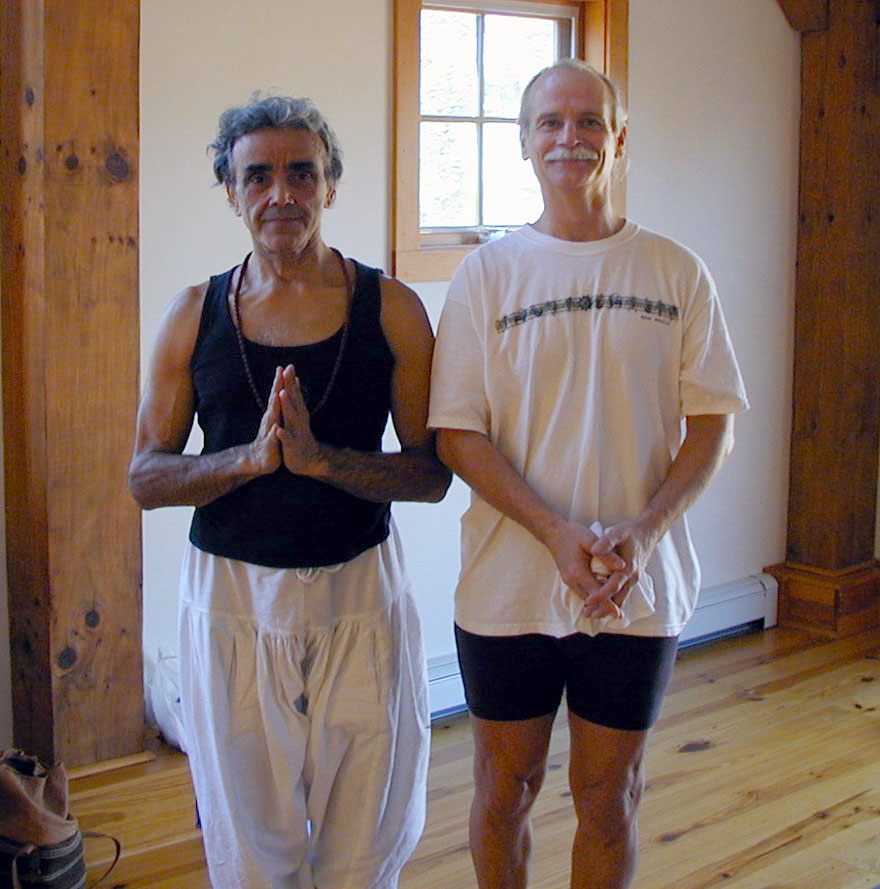 Dharma leading the class and demonstrating "headstand" Dharma and Ed
I am slowly accumulating hours toward the 500 hour level of teacher training certification with the Yoga Alliance. One such 500-hour teacher training workshop I attended in April of 2005 was with the remarkable, and young, Tim Miller at the Yoga Barn in Charlottesville. I have been trying to get a chance to study with Tim at his studio in California for the last several years, but have never been able to make it happen, so this workshop was a real treat for me. As usual Jennifer and Tom were excellent hosts, and it was wonderful to see the friends I have met over the years at the workshop.
Tim is a advanced Ashtanga Yogi that has been doing the practice for 30 years. It was an excellent workshop on asana, involving adjustments and analyzing the full primary series as well as a "greatest hits" of the secondary series, yikes, those backbends always get me. But in addition to the study of asana, the workshop also involved pranayama, and a study of the yoga sutras.
I really resonated to the time we spent on the yoga sutras, which for me, provide the foundation for my asana practice. The workshop was also great because I got to know Tim a little. It turns out that we have a number of things in common (flexibility is not one of them....). We born in the same year (hence the young descriptor for Tim earlier...), are both air force brats (had dads in the air force), and were both banging around around in high school in Southern California at the same time in the late 1960's without knowing each other, how do you say, small world.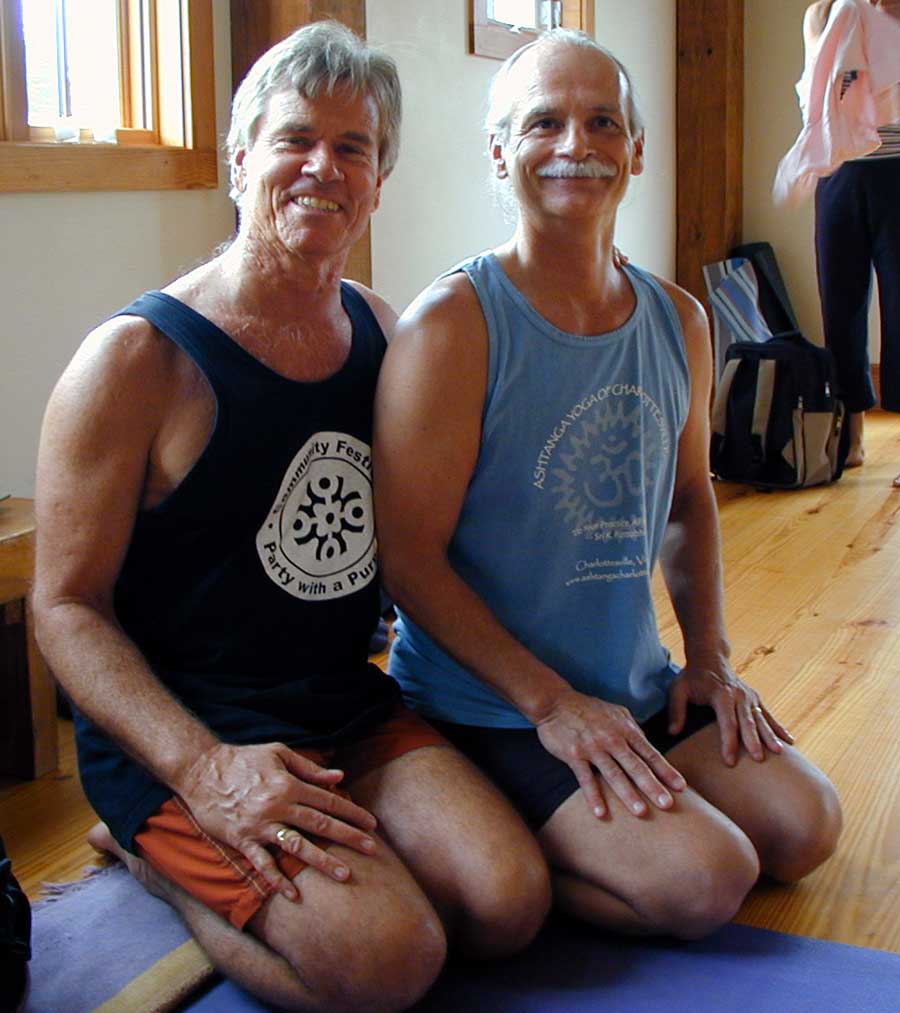 Tim and Ed, a couple of young yogis.....
In September of 2005 I had the chance to do a weekend workshop with Darby and Joanne (http://www.sattvayogashala.com/aboutus.htm) at the Yoga Barn in Charlottesville. Great workshop, Darby had a wealth of information about the Ashtanga Primary Series and the backbends asanas of the Intermediate Series. Joanne is living in India and had just gotten back from Mysore, India a week before. Darby had interesting insights on how Pattabhi's method of teaching has changed over the years. If you have a chance to catch a workshop with Darby or if you are in Montreal where he has his yoga shala, you should really try to study with him.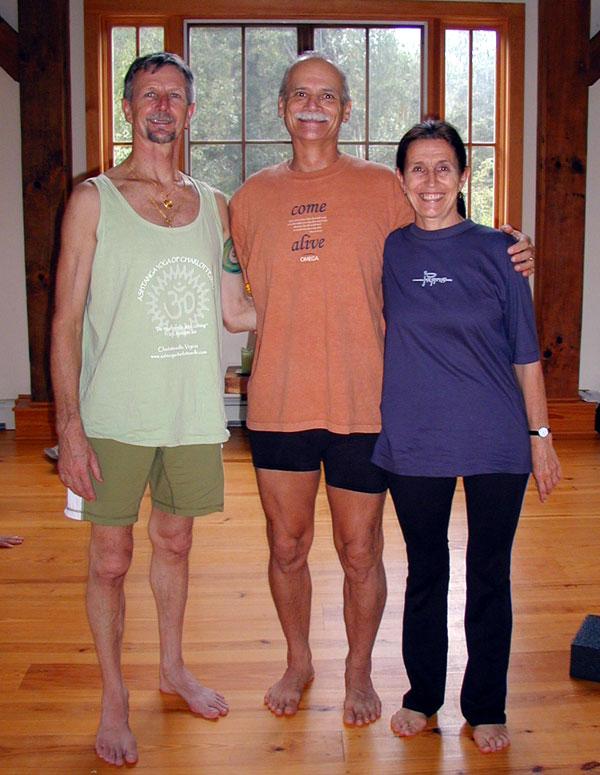 Darby, Ed and Joanne at the Yoga Barn
In March of 06' there was another great workshop sponsored by Ashtanga Yoga of Charlottesville at the Yoga Barn, thanks Jennifer. Olaf and Nina (http://www.nilaf.com/index.html) gave the workshop with a free demo on Friday night (I could not make it) and the primary series on Saturday and secondary series on Sunday. Olaf and Nina recently got back from a 4 year stint in Mysore with Pattabhi Jois. They brought lots of great insight, energy and strong assists to the workshop.
We all knew we were in for a treat when the workshop started Saturday morning with a 3-hour "Full Vinyasa" primary series, yikes. At the end of the workshop we were all warned to be aware that some interesting things can start to come up after the strong backbends of the secondary series, Great fun. I hope the link works to Olaf and Nina's website works, because there's lots of great information and photos, and remember, lots of gee when working on secondary series......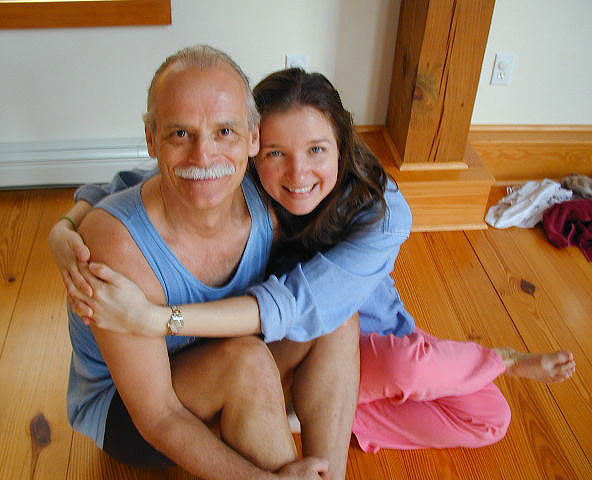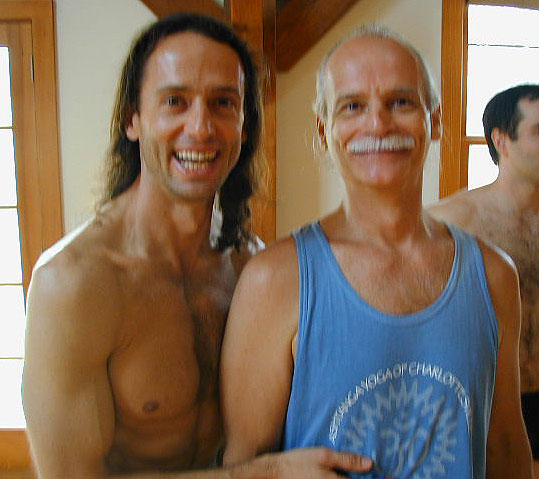 Nina Olaf
In October of 2006 I had the great, good fortune to attend a workshop at the Yoga Source in Richmond, VA with Richard Freeman (http://www.yogaworkshop.com/). I have been trying to catch up to his workshop schedule for several years. It was a wonderful four days in which we deconstructed the sun salutations, standing and primary series. We also chanted in the afternoon and studied yoga philosophy. Richard was a deep well of information about the yoga tradition and a very funny guy. I definitely recommend trying to study with Richard if possible.
In February of 2007 I had the great pleasure of attending a workshop at the Yoga Barn with Beryl Bender Birch (http://www.berylbenderbirch.com/), the teacher that introduced me to the practice of Ashtanga Yoga in 1999. Beryl was wonderful, drawing on her experience with yoga from the early 1970's till today. Unfortunately, I was only able to attend only two days of the three day workshop. The first day we did a strong primary series in the morning and in the afternoon we studied the yoga sutras. The afternoon session was very interesting, we read from a number of translations of the sutras and discussed their application to our lives and practice. The second day of the workshop we explored the first half of the secondary series including a number of assists, great fun....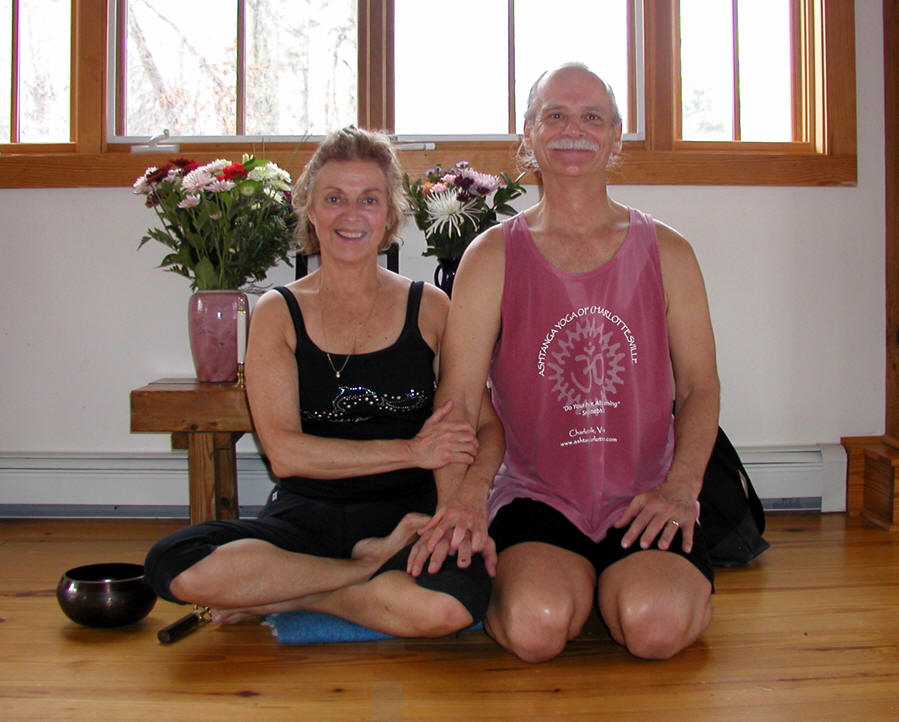 Ed and Beryl after the workshop (I wonder why I am so sweaty....)
I had the rare, special opportunity to spend the month of June on the island of Ko Samui off the coast of Thailand studying yoga at the Yoga Thailand Shala (http://www.yoga-thailand.com/). Yoga Thailand and the teachers there are very special. Traditional Ashtanga along with pranayama and good organic food, definitely invokes change.
The Shala offers a number of specific programs as well as residential visits. During my stay I did both two, week-long residential stays as well as two, week-long workshops on "Ashtanga Yoga and Ayurveda" and "Develop and Deepen Your Practice". Teachers present included Dominique, Jessica, Neil, Paul and Dr. Shantala, Ayurveda specialists from India. What can I say, if you can afford the flight over there, you have to go, a very special and beautiful place and people, this is how we were meant to practice....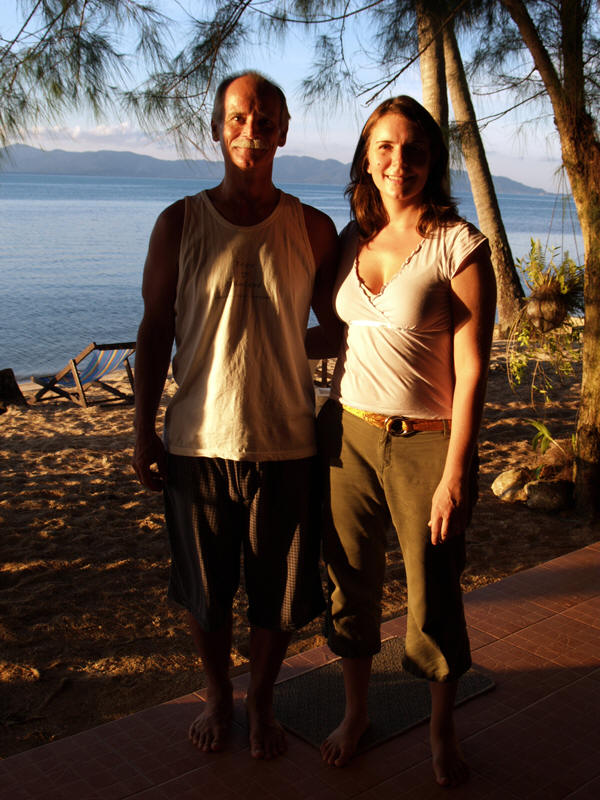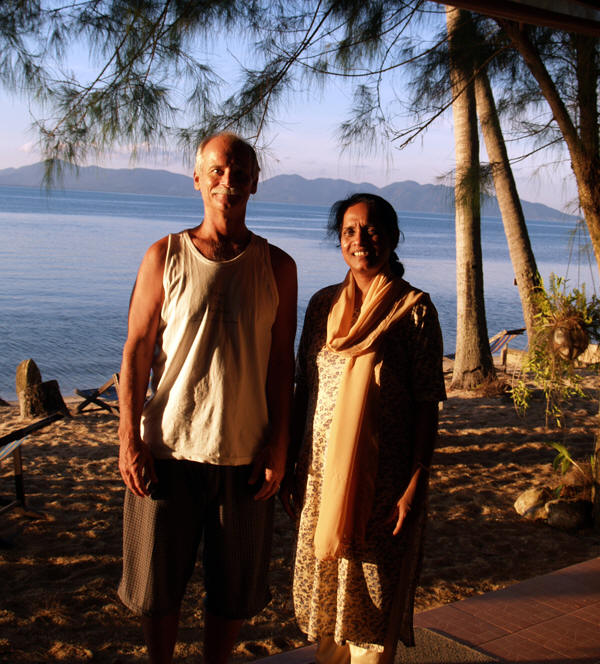 Ed and Jessica Ed and Dr. Shantala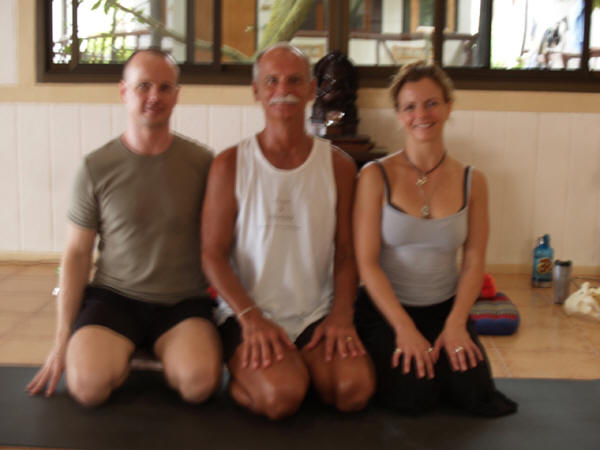 Neil, Ed and Dominique at the shala, all that pranayama can make you dizzy.....
For the last 7 years I have been trying to find a way to study with Lino Miele at his Kovalam, India retreat. The logistics are pretty daunting, mostly trying to figure out how to afford to fly over there as well as finding a block of time to dedicate to the practice. Cyndy and I were able to spend the month of January in Southern India at the workshop. It was our first time to India, and that in itself is pretty overwhelming. The retreat was wonderful, daily practice, with pranayama twice a week. Lino brought a small army of excellent assistants with him. Whenever you needed an assist, they would find you and offer their help. Highly recommended, here is a link to some photos of the trip: http://people.hsc.edu/faculty-staff/edevlin/edsweb01/kerala,_india.htm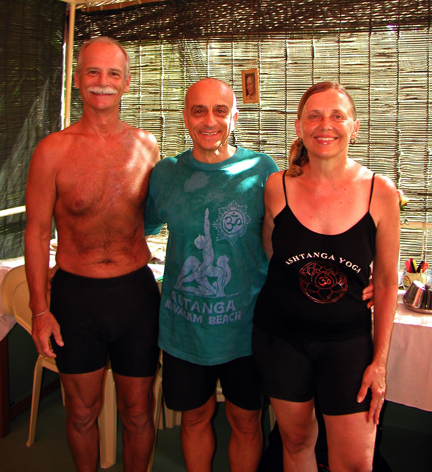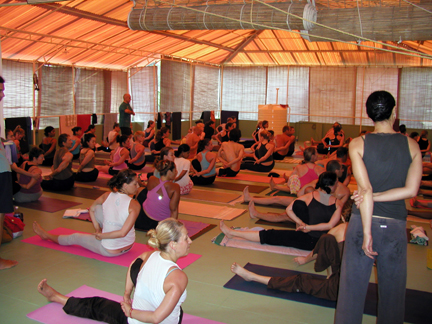 Cyndy, Ed and Lino The shala on the roof
In May of 2008, I was able to attend the grand opening of the Pattabhi Jois Ashtanga Yoga Institute USA, in Islamorada, Florida. The new yoga shala is a very nice facility with lots of space. On Friday evening myself and about 100 other students got to meet Pattabhi Jois (Guruje) and receive his blessing. On Saturday, the first led class of the grand opening was held. Close to 200 students packed the main practice space. Guruje led the opening chant, then his daughter, Saraswathi, counted out the vinyasas of the the primary series. This was a great occasion for me, as I have been trying to figure out how to meet and take a class with Guruje.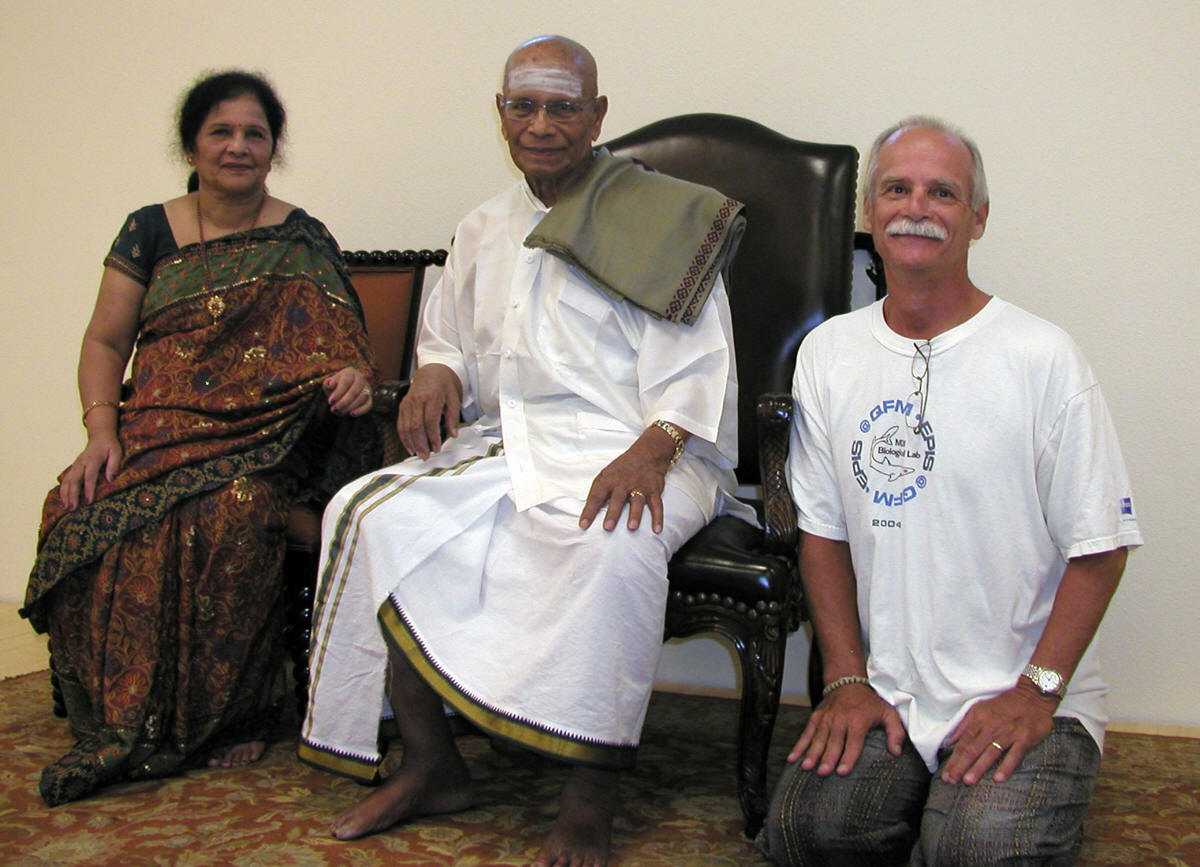 Here is Guruje with his daughter and Ed
In the summers of 2008 and 2011 Cyndy and I drove to the high desert outside of Espanola, New Mexico to participate in the Kundalini Summer Solstice Sadhana Celebration. We spent 10 days camping, studying Kundalini yoga philosophy and asana. The energy of several thousand folks focused on their personal development gave us quite a buzz. The last three days of the celebration involved White Tantric Yoga, an ancient yoga practice designed to help break through deep-rooted subconscious blocks. Lots of chanting and working with a partner. I especially liked the 60 minute blind, walking, meditation that was done in the desert at the end of the practice.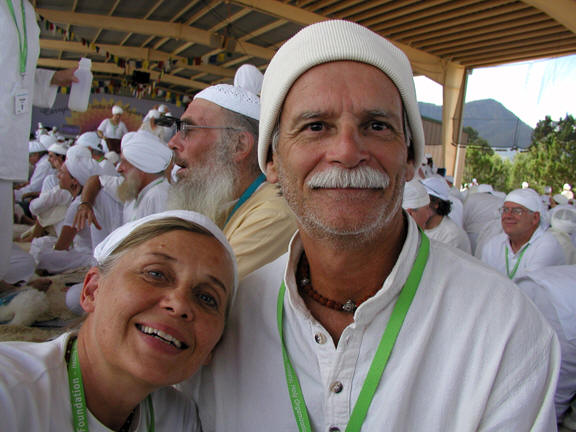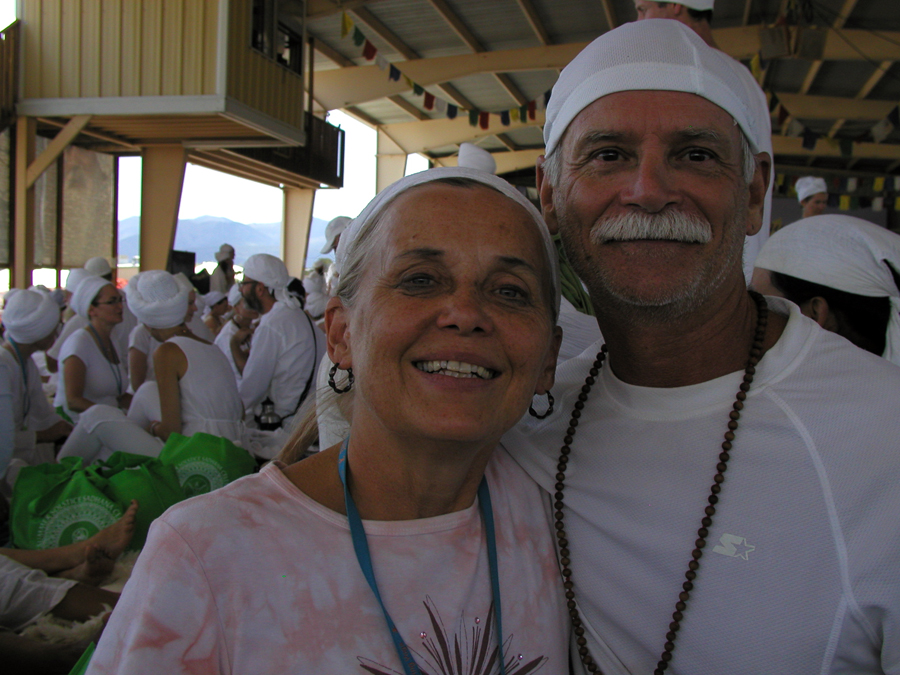 2008 Cyndy and Ed, White Tantric Yoga 2011
In January 2010 I was able to attend a workshop hosted by Alicia and the crew at Ashtanga Yoga Richmond (http://www.ashtangayogarichmond.com/) with Kino MacGregor (http://www.kinoyoga.com/). The weather was cold outside the studio, but it was nice and warm inside and we had a great weekend. We worked on the primary series and Kino offered a great discussion on how to integrate the core muscles to facilitate lightness and lift. Kino also gave one of the best explanations of the elusive bandhas I have heard. I found her to be an excellent, articulate teacher and would greatly recommend catching up with her when she is traveling and giving workshops or at her Miami studio.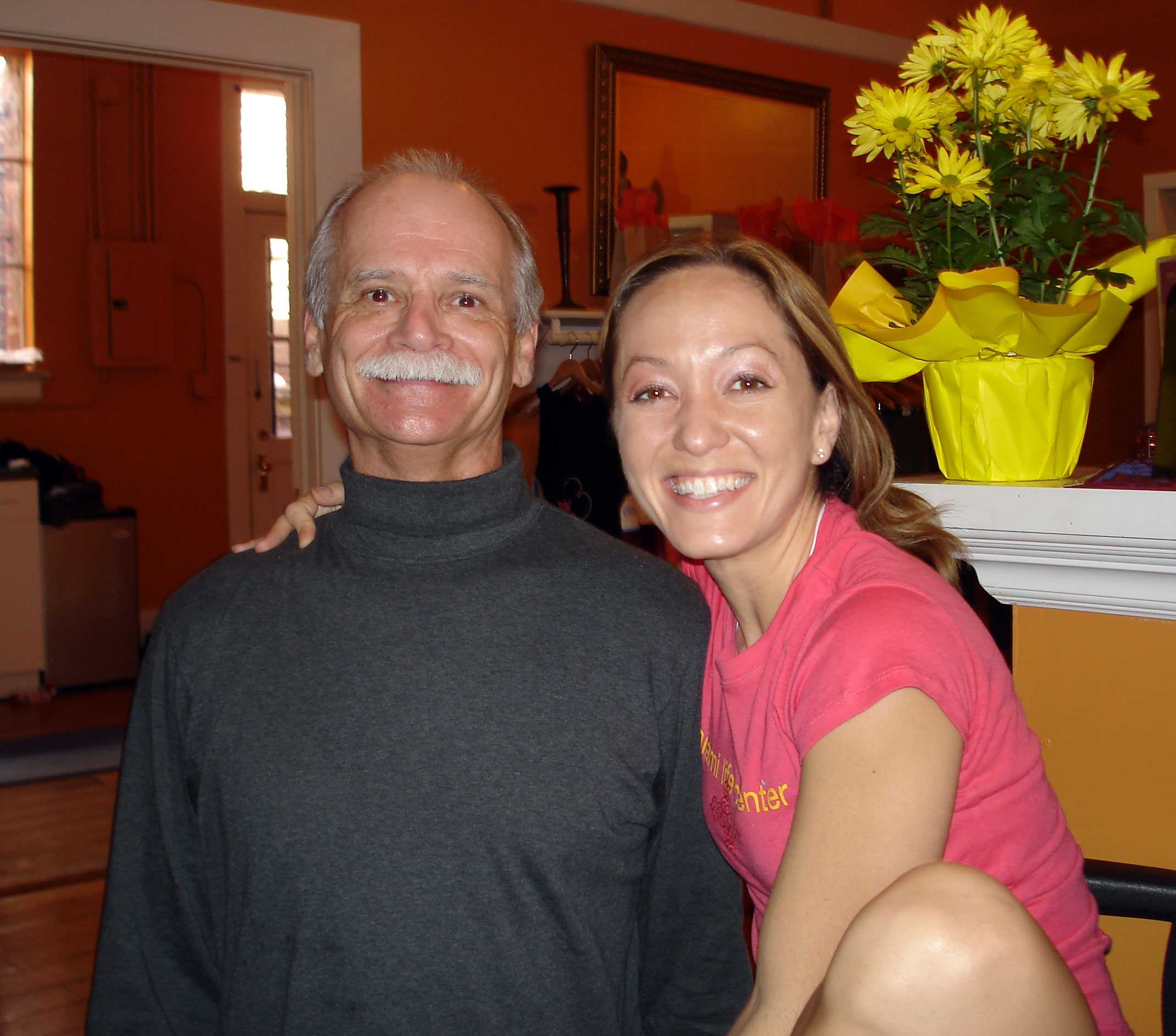 Happy Student with his Teacher
In March of 2010 Jennifer, Tom and Ashtanga Yoga Charlottesville hosted a weekend workshop with John Campbell at the barn. Cyndy and I attended the workshop which included Mysore-style practice as well as a led primary series. John offered a number of insights into the practice including the significance of the vinyasa counts in maintaining the focus during the practice. There were also several very interesting talks on the intersection of yoga, Tibetan Buddhism and one's personal practice, great stuff. Dr. John Campbell was a student of the late Pattabhi Jois and is one the few Certified teachers of Ashtanga Yoga worldwide. Thanks again to Jennifer and Tom for hosting the workshop.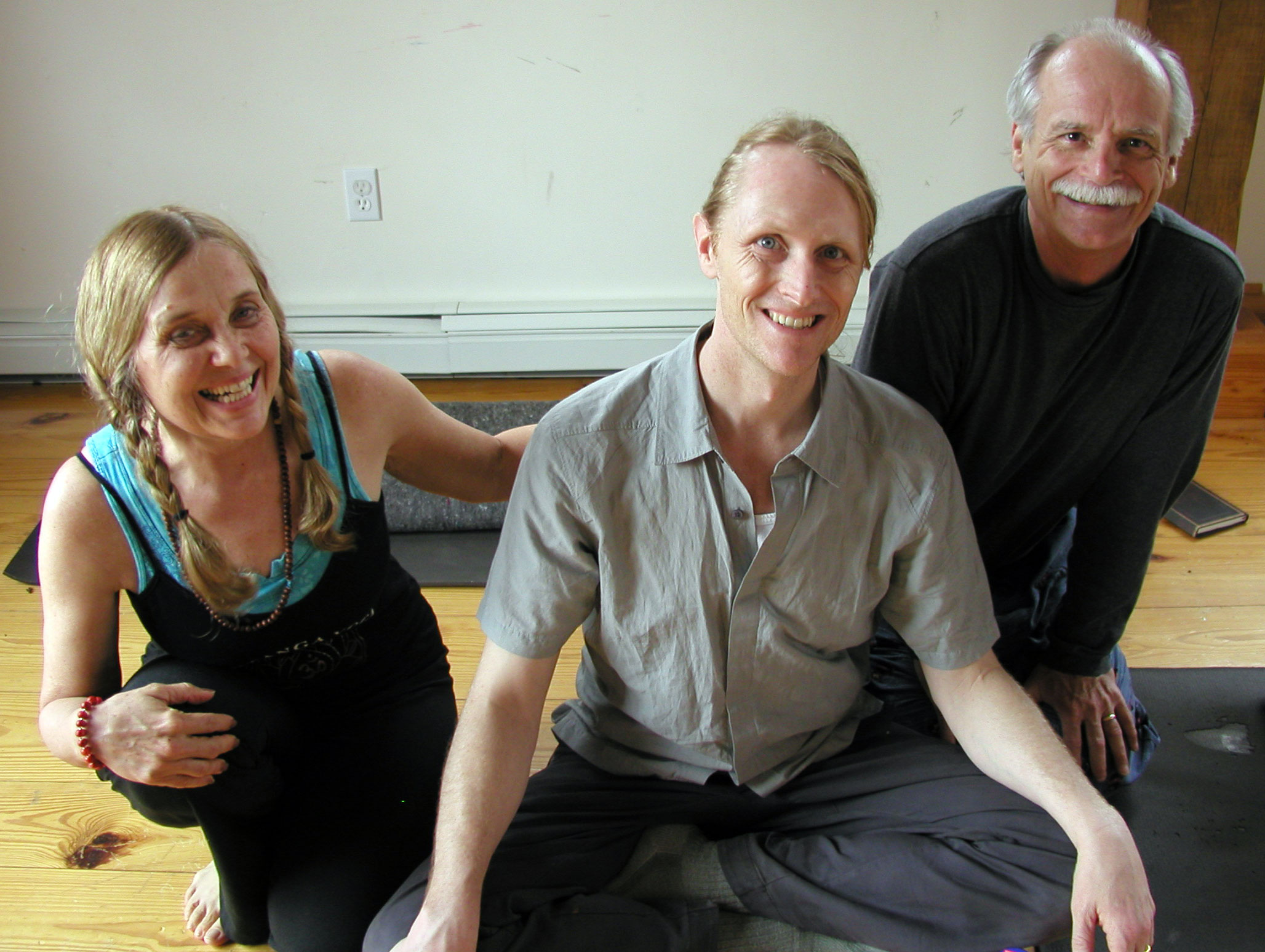 Cyndy, John and Ed
The summer of 2012 found me on the west coast at the Esalan Institute for a three day weekend workshop and a chance to soak in their amazing hot-tubs. The workshop was given by Alex and Annellen Simpkins on Ericksonian-based techniques of self-hypnosis. This was a very interesting workshop that combined a variety of eastern and western techniques to access meditative and trance states. I have always been challenged by meditation, so this was a very helpful workshop, and did I mention the hot tubs......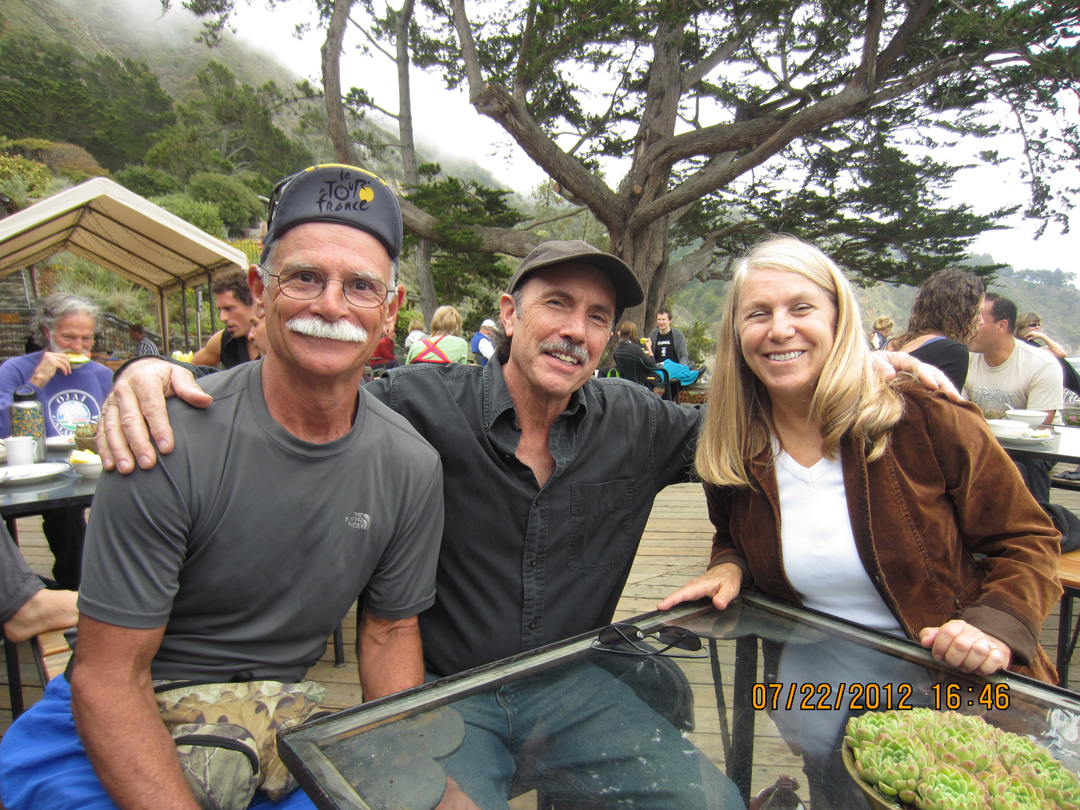 Ed's 2000 Boxster, aka, the yogamobile. The license plate should actually be spelled "NAMASTE" (a traditional greeting), but that plate was already taken, so "NAMASTI" is close.