PORSCHE BOXSTER
When Porsche introduced the "Boxster" in the late 1990's it really caught my eye. The reason I liked the Boxster model was that it was a convertible, its mid-engine design gave it great balance, and as the entry-level Porsche, it is the cheapest and most fuel efficient Porsche in production. Well, in 2006, I found a 2000 Porsche Boxster for sale at a good price and grabbed it, how do you spell "mid-life crisis"....
Mine is the basic 5-speed manual transmission 2.7 liter Boxster, not the upscale 6-speed 3.2 liter Boxster-S. Anyway, its hard to believe how fun it is to drive and happily, I have been getting close to 30 mpg on the highway if I behave myself... The car needed a little TLC when I got it with 43,000 miles on the odometer. I have been doing some work replacing the sorts of things that normally wear out on a car of its age that now has over 90,000 miles on it.
In addition to regular maintenance, I have also have had great fun doing some "modding" and "tuning" to the car. Performance tuning of the Boxster involves getting the car to breath better (intake and exhaust) and modifying the ECU parameters, or "chipping" the car. One of the first mods, before any of the performance mods, was to fix the inadequate stereo system in the car. This involved removing the factory CD player, and speakers and replacing them with a Kenwood double din CD/DVD/Navigation head unit and JL Audio Speakers. I am running two outboard Alpine Class-D Audio amps, six audio channels (dash, door, rear) and subwoofer channel. Below is a picture of the amps in the Boxster's front "boot" and where the custom sub had to be placed in the passengers foot-well.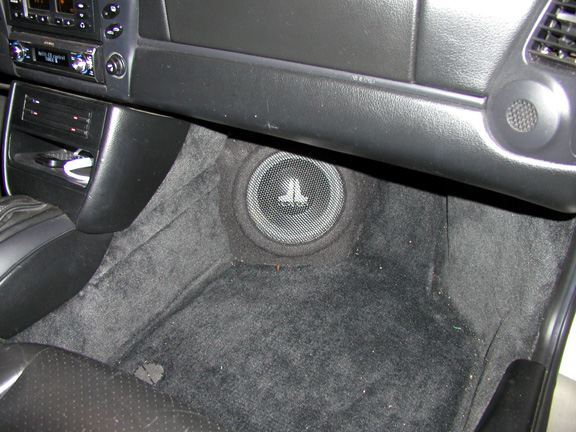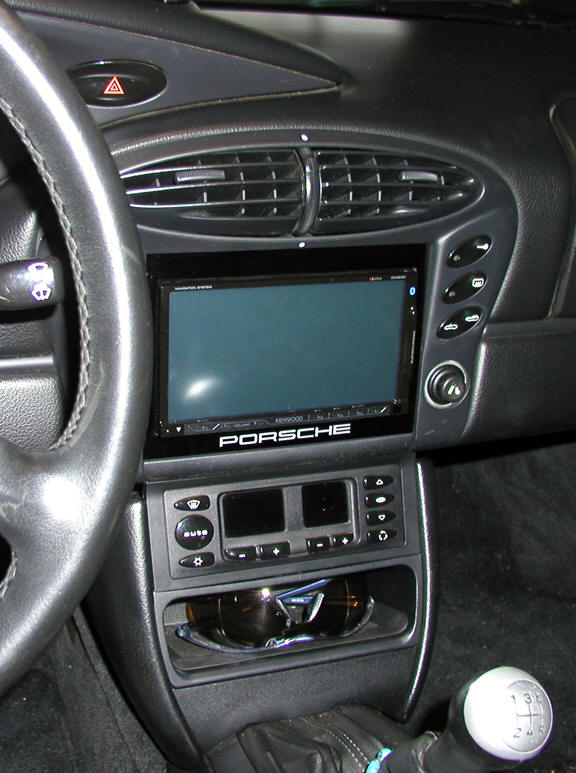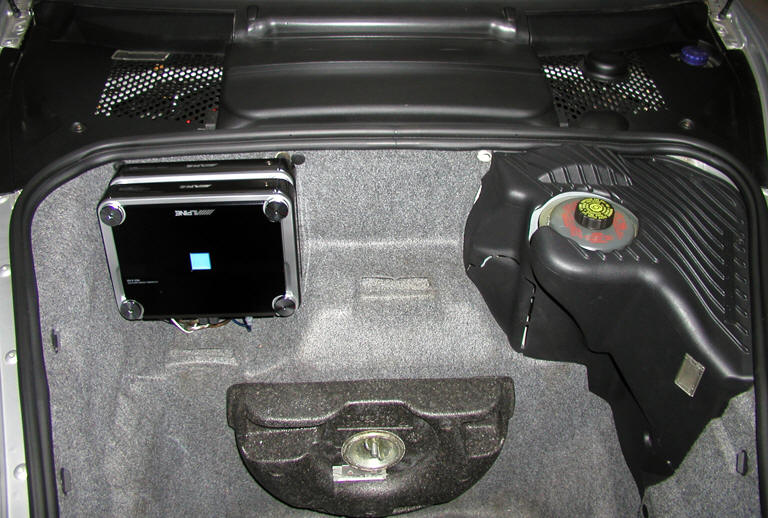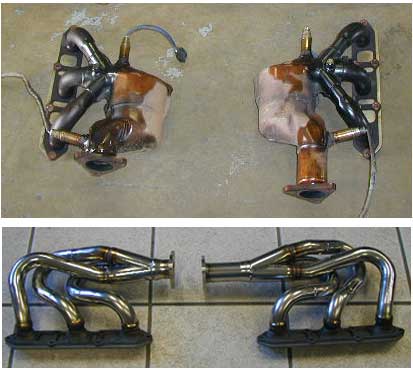 On the left is a picture of the stock headers and the TTP aftermarket headers I put on the car, along with high-flow cats and a sport muffler. Much of this work has been done by a couple of great guys, Minh and Jimmy, at a shop just south of Wash DC called the Autothority Pitstop http://www.autothority.com/index.php.
They have done the fabrication and installation of the custom TTP cold-air intake system shown below, as well as the exhaust system, clutch, short-shift kit and flywheel. Importantly, Minh has been helping to dial in the great tune on their modified ECU (engine control unit) chip.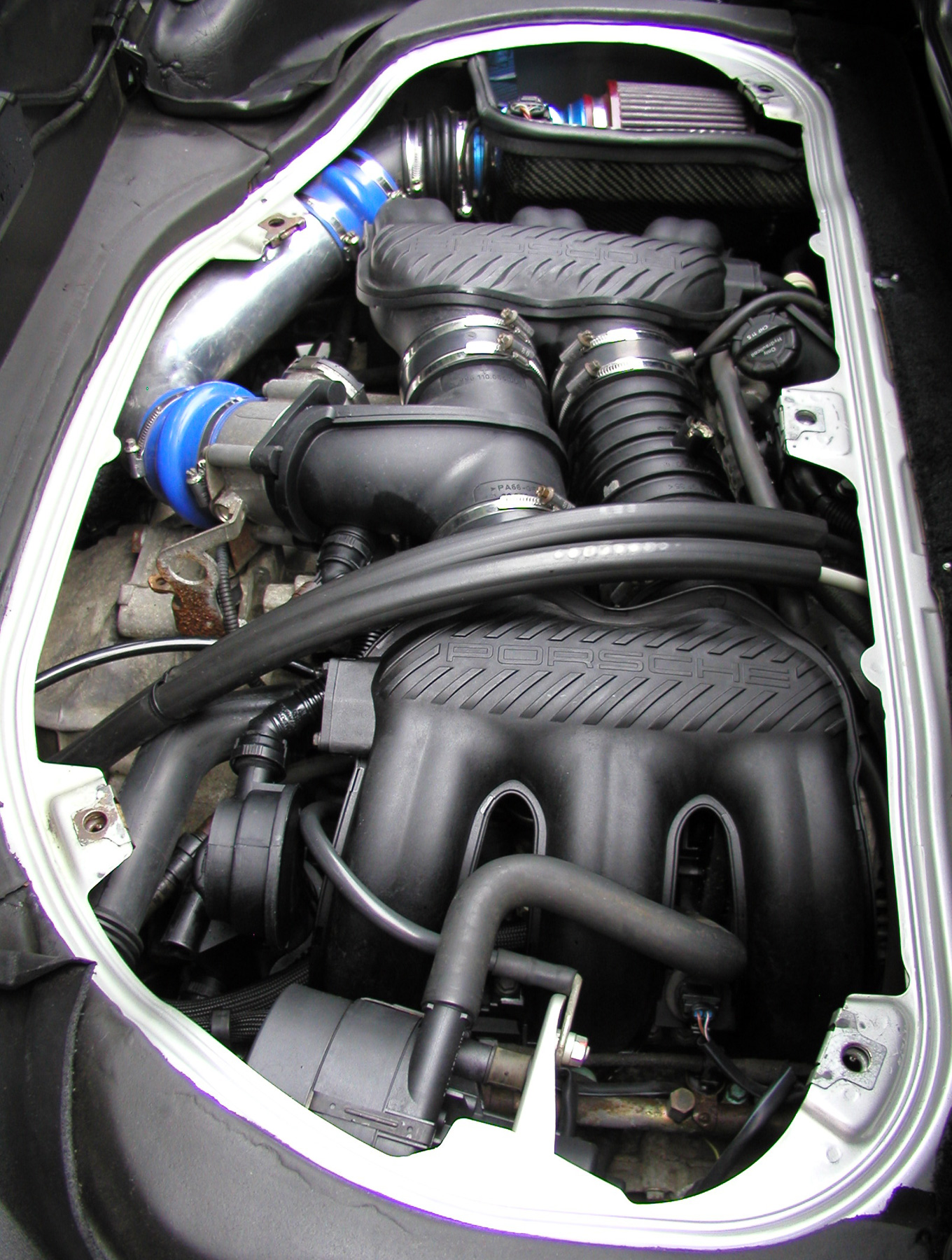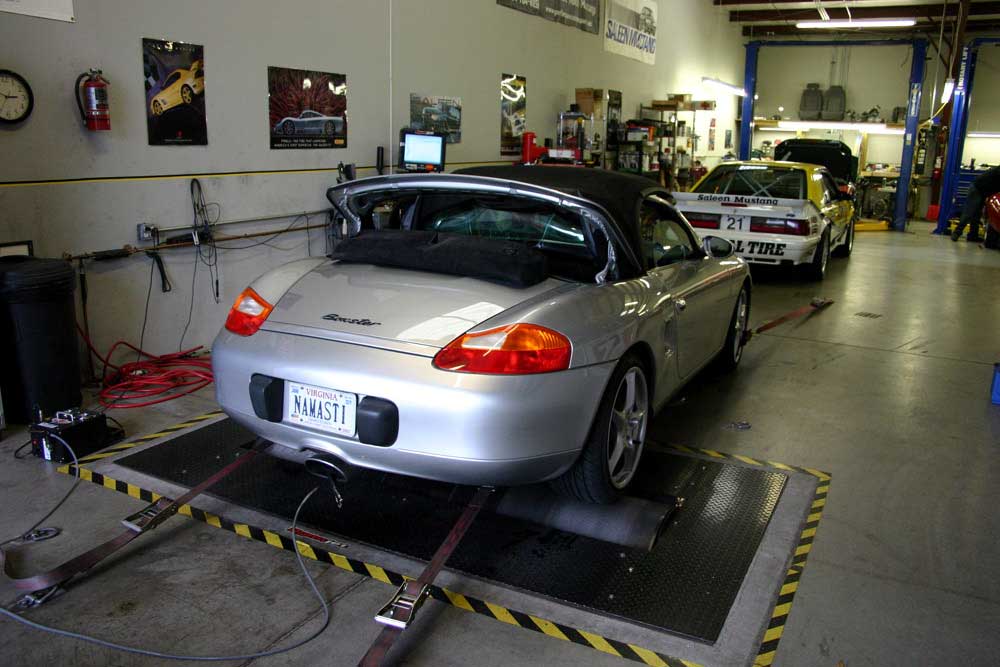 The clutch needed replacing after 50K and the stock flywheel needed resurfacing, I decided to replace the stock flywheel with a lightweight aluminum unit shown on the left. The result is that the car is noticeably more responsive to the throttle with 15 less pounds of rotating mass to spin.
The shocks were also starting to go on the car so I installed a set of Bilstein PSS9 "coilovers" and lowered the car slightly, which made a big difference in its already excellent handling. Lastly, I installed a short-shift kit also made the car more fun to take through the gears.
You can get improved performance from any car by adding more horsepower or by making the car lighter. Because its difficult to increase the HP of these cars over the stock 217 HP, I have done a number of things to lighten the car. In addition to the lighter exhaust and flywheel, I replaced the stock battery with a light-weight Barille battery seen below with my older JL Audio amps in the front trunk.
The battery can be seen below left just in front of racing dynamics strut-braces I installed to tighten up the front end. I also got a pair of used seats from an older Porsche GT3 that are very snug, especially for me these days, but once in them, they are very comfortable and almost 50 lbs lighter than the stock seats.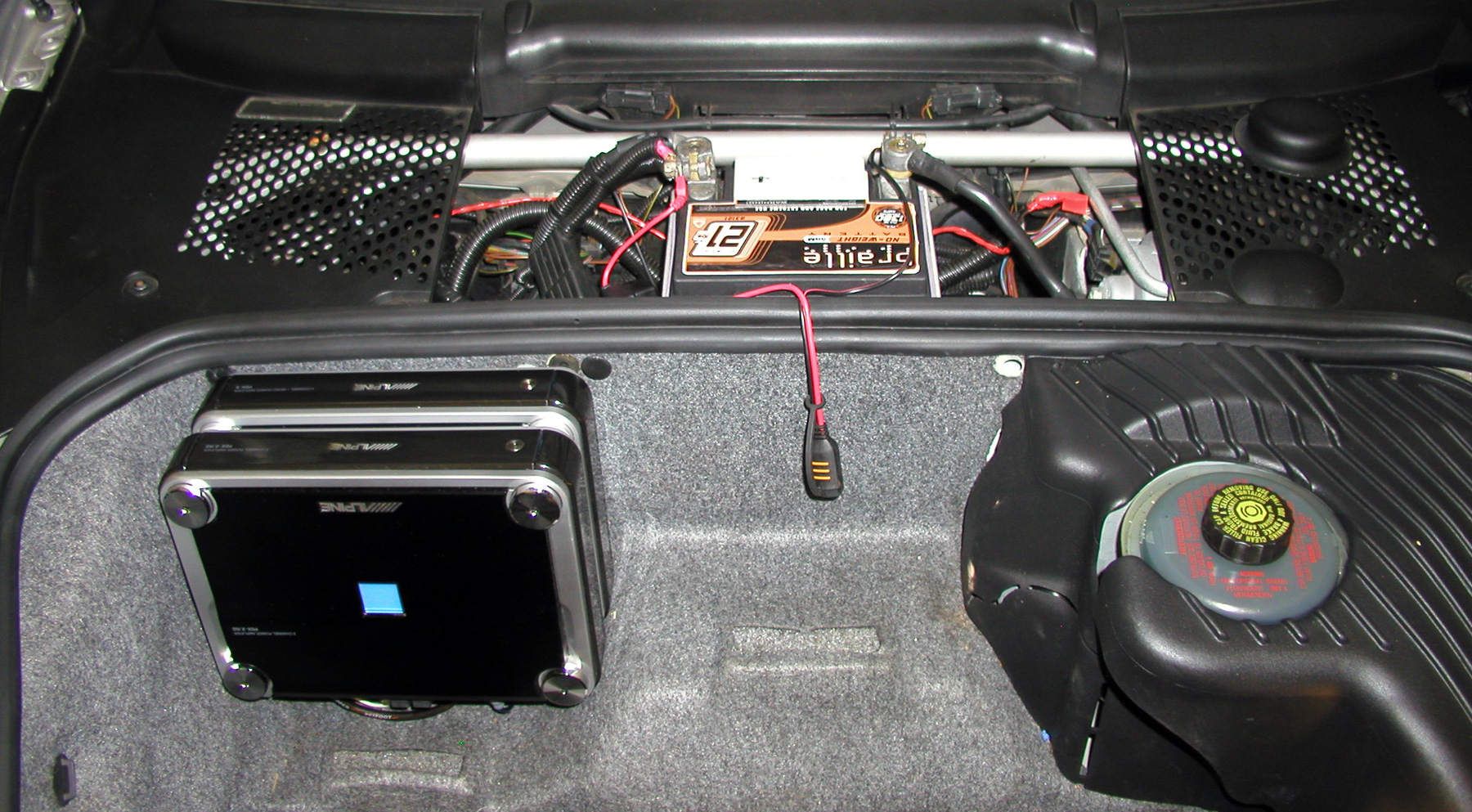 To see if the intake, exhaust and ECU mods were doing doing anything I have run the car on a dyno, a device that is able to check the horsepower, torque at the rear wheels. A dyno run is great fun to watch and something I had never done before. To run on the dyno, they have to strap the car down so the rear wheels are on the dyno rollers. They they put a clip on one of the ignition leads and put a fuel/air mix "sniffer" into the exhaust, then they run it up to "redline" about 7200 rpm under full throttle in fourth gear. Lots of noise and activity as the rear wheels spin up to over 100 mph (redline in fourth gear) to generate a graph of power, torque and fuel/air mix.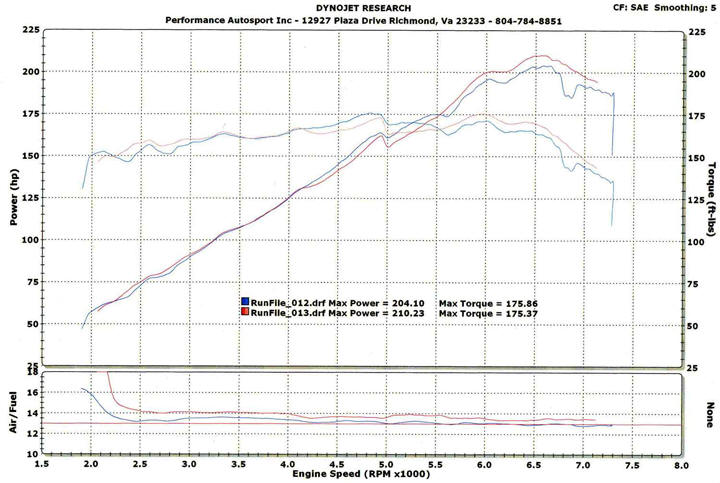 One thing about normally-aspirated Porsche engines is that there is not a whole lot of additional performance to be had from modifying the car. I have done several dyno runs with Kevin and the folks at Performance Autosport in Richmond (http://www.performanceautosport.com/dynojet.asp). Here is a typical readout from two dyno runs. The upper red curve is with 100-octane fuel in the car, the lower curve is with 93-octane premium fuel. Porsche engines are pretty highly-tuned from the factory and it is hard to get much in the way of extra hp from them. The tunes I have done have been conservative and have only added 25 hp to the stock engine, but the car is more responsive and fun to drive with them.
I went online and found some of the stats on the second car I owned, a 1958 Karman Ghia. That may sound like an old car, but back when I had it in 1968 it was only 9 years old! I find the comparison of my Boxster with my old Karman Ghia especially interesting. Check out the difference in the horsepower and mileage between the new and old cars.
1958 Karman Ghia 2000 Boxster
Weight 1790 lbs 2700 lbs
Cylinders 4 6
Displacement 73 cubic inches 164 cubic inches (2.7L)
Horsepower 36 240
MPG 32 28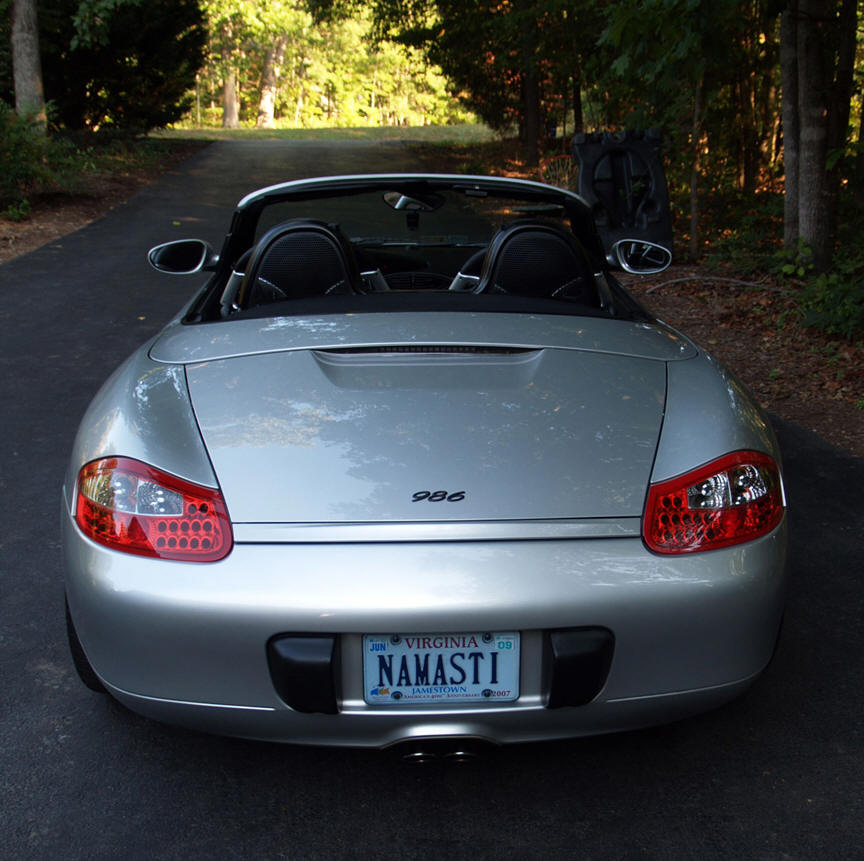 Here is my "new" toy including the aftermarket 18" Carrera-style wheels
CAR HISTORY
I grew up all over the place around the U.S. and abroad, but I went to high school in Southern California in the 60's. The Beach Boys and and cars were the happening thing. The experience of that car culture started my interest in cars. In 1965 I learned to drive in a 1960 Corvair, which was an innovative car from chevy that was powered by an air-cooled horizontal six-cylinder engine made almost entirely out of aluminum. The engine was mounted in the rear of the car, driving the rear wheels through a compact automatic transaxle (shades of Porsche design...), very fun car to drive (http://www.corvair.org/aboutcsa.php). I especially remember the lever on the dash that functioned as a shift lever for the automatic transmission. The Corvair was a family car that was shared with my sister and dad.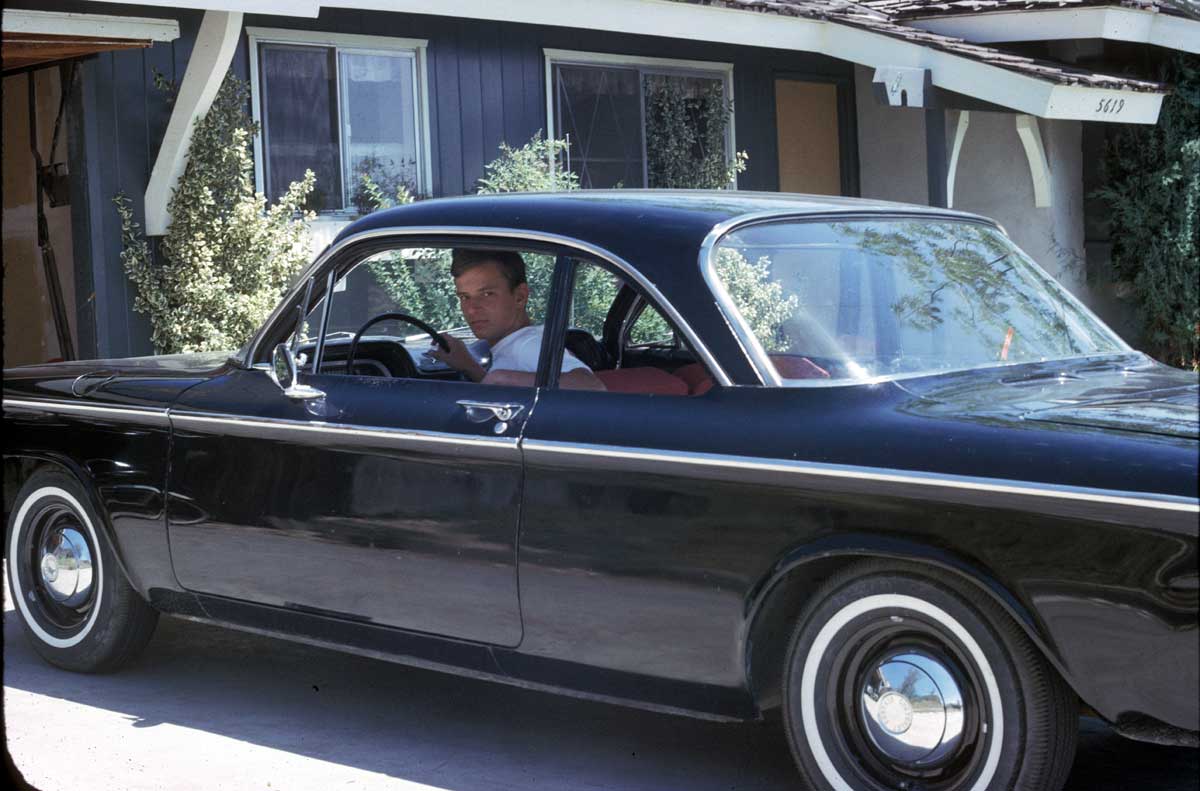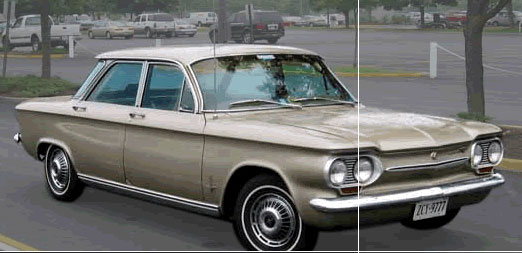 Our Car, 1965 San Bernardino, California Photo from Corvair Club of America
I got a job and by the time I was 16 years old in 1966 I bought my first car, a 1958 Nash/Rambler, I think I paid 300.00 for it. It had a flathead in-line six cylinder engine with a three-speed manual transmission. The car was geared remarkably low. When I would drive at 65 mph on the freeway in third gear the engine would scream like it was reaching its red-line. I took very good care of the car, because it was my first. Great car for making runs to the beach on weekends.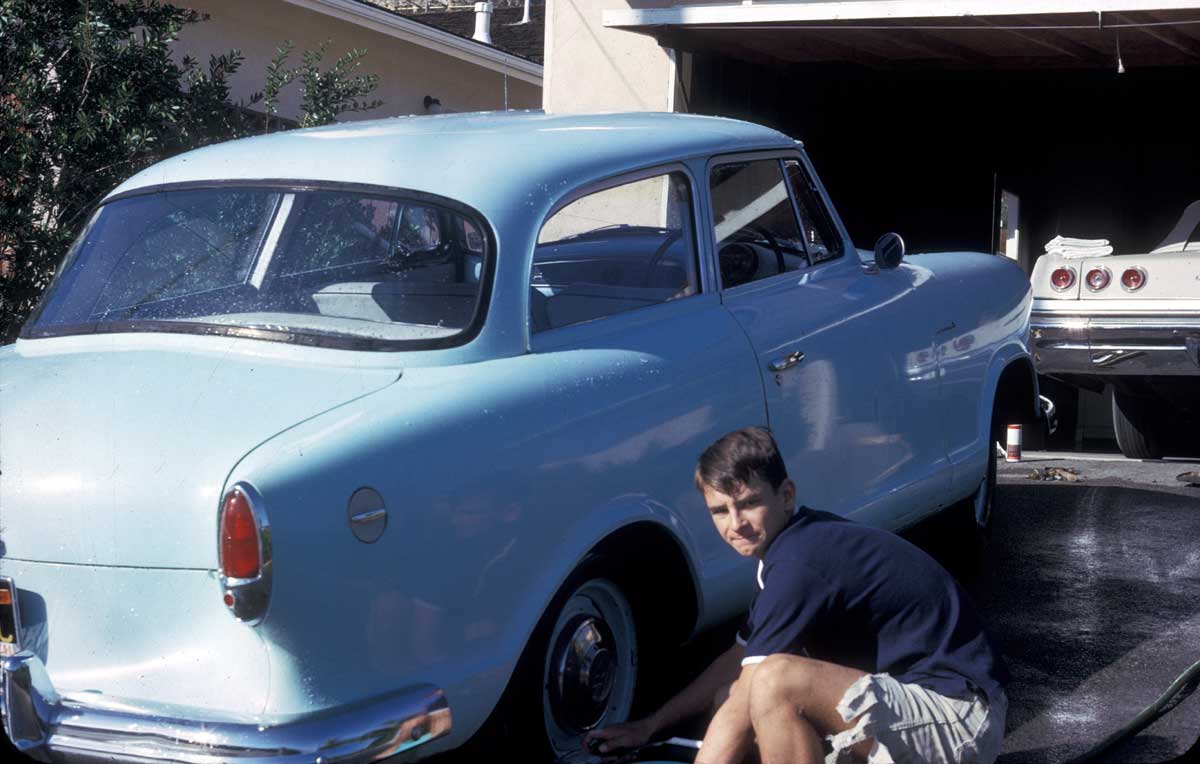 1966 Pasadena, California, who is that baby washing the car?
In 1967 we moved to the east coast, I sold my Nash and bought a 1958 Karman Ghia (what's up with these 1958 cars?). I wanted a sports car, but the Ghia was all I could afford. Most of my buddies were driving muscle cars and they laughed at my Ghia, but I thought it was great. For those of you that don't know the car, the Karman Ghia is a short, low version of the Volkswagon Beetle (http://www.serve.com/bacani/kg.html) .
A 1958 car sounds pretty old today, but it was only 9 years old when I bought it. If I am not mistaken, I think I paid 500.00 for the Ghia. Karman Ghias had a tendency to rust and mine was no exception, it was a rust-bucket. I had to keep fiber-glassing the headlights and wheel-wells back into place. I also needed to put a large piece of plywood over the 12" rust hole in front of the drivers seat that allowed me to see the pavement below. They were very interesting cars. Below is a picture from the 1958 sales booklet on the Karman Ghia.

I had trouble finding any pictures of my Karman Ghia, below is the only photo I found of my Ghia with my mom and our dog "Max". While I was driving the Ghia, my best friend in high school was driving his new 340 Dodge Dart, quite the little muscle car.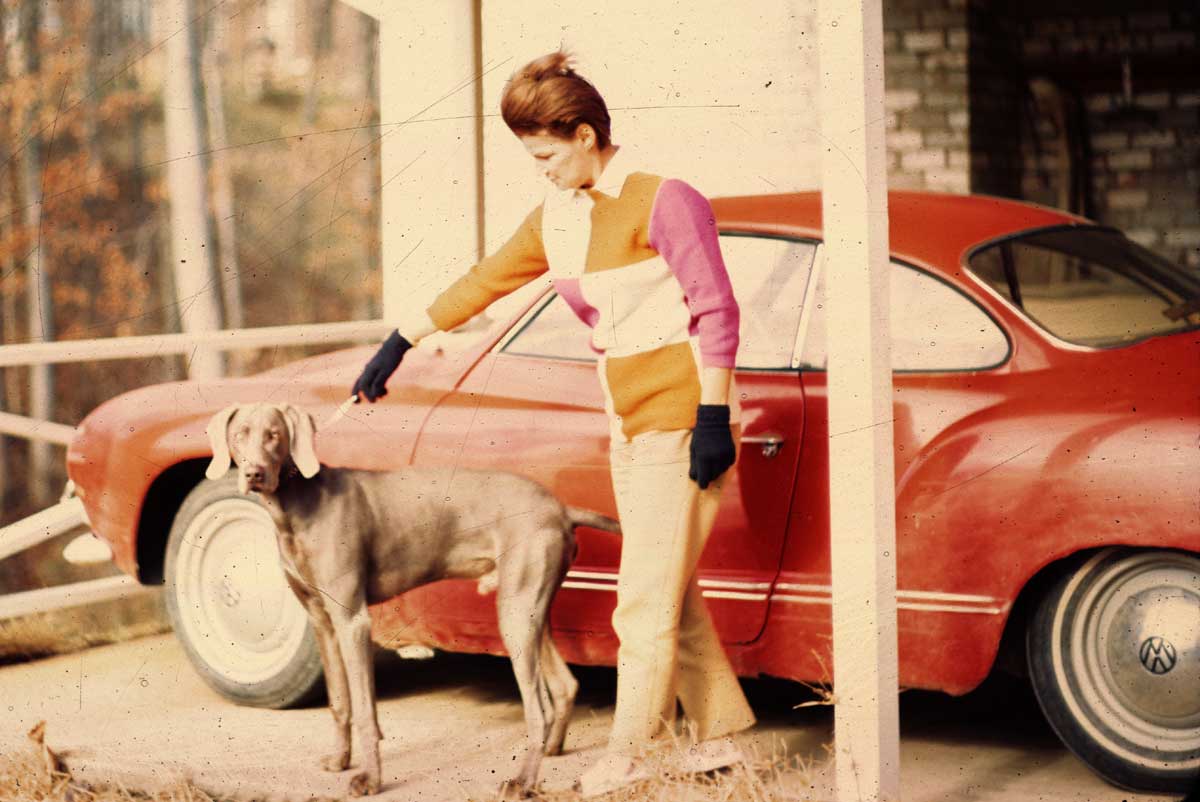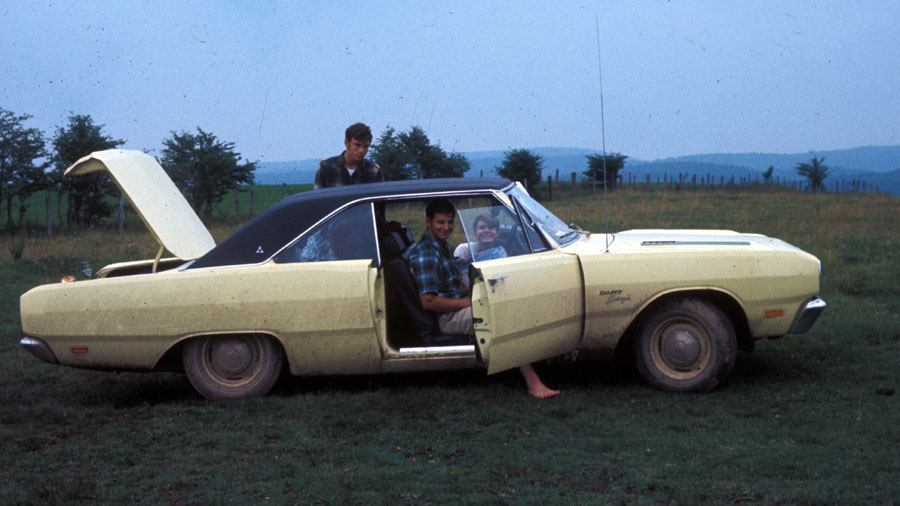 Karman Ghia 1968 Silver Spring, Maryland Larry's 340 Dodge Dart, summer of 1969
My next car was a hand-me-down that I got in the early 1970's, it was a great car, but it was a big car, a "boat". It was my dad's 1965 Chevy Impala convertible. In-line six cylinder, with a three-speed manual transmission. The car was pretty quick for its size, but I still wished it had a small-block V8 with a four speed... When the car was new, it was a sight to behold. By the time I got it, the windshield was cracked, it was rusted, the top leaked and there were several large dents in it. But that did not bother me, I could haul kayaks in the back seat with the top down and trailer sailboats that I was racing at the time. Great car, I wish I still had it today.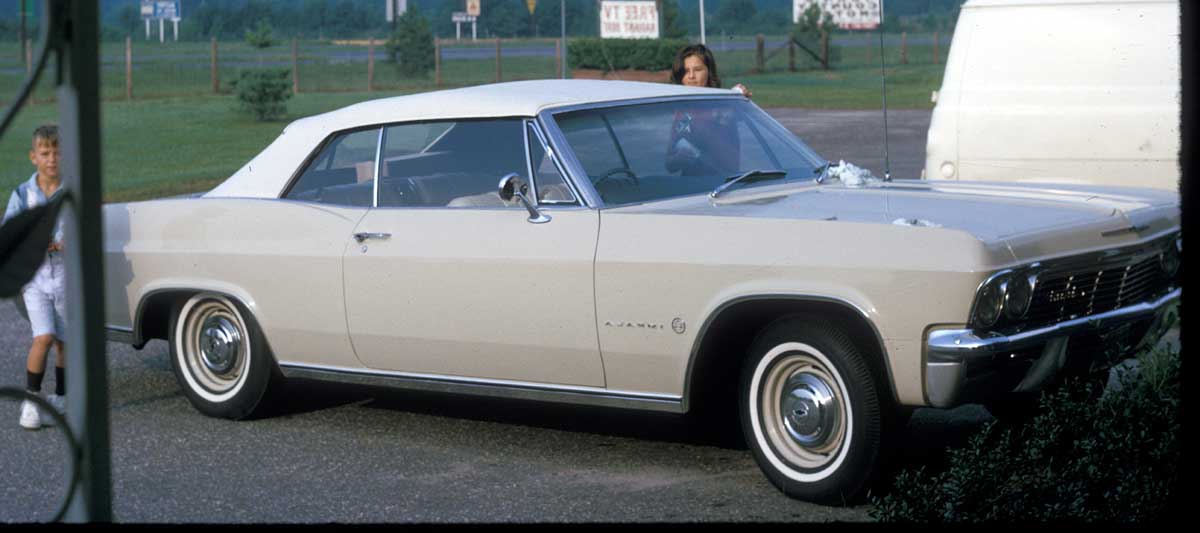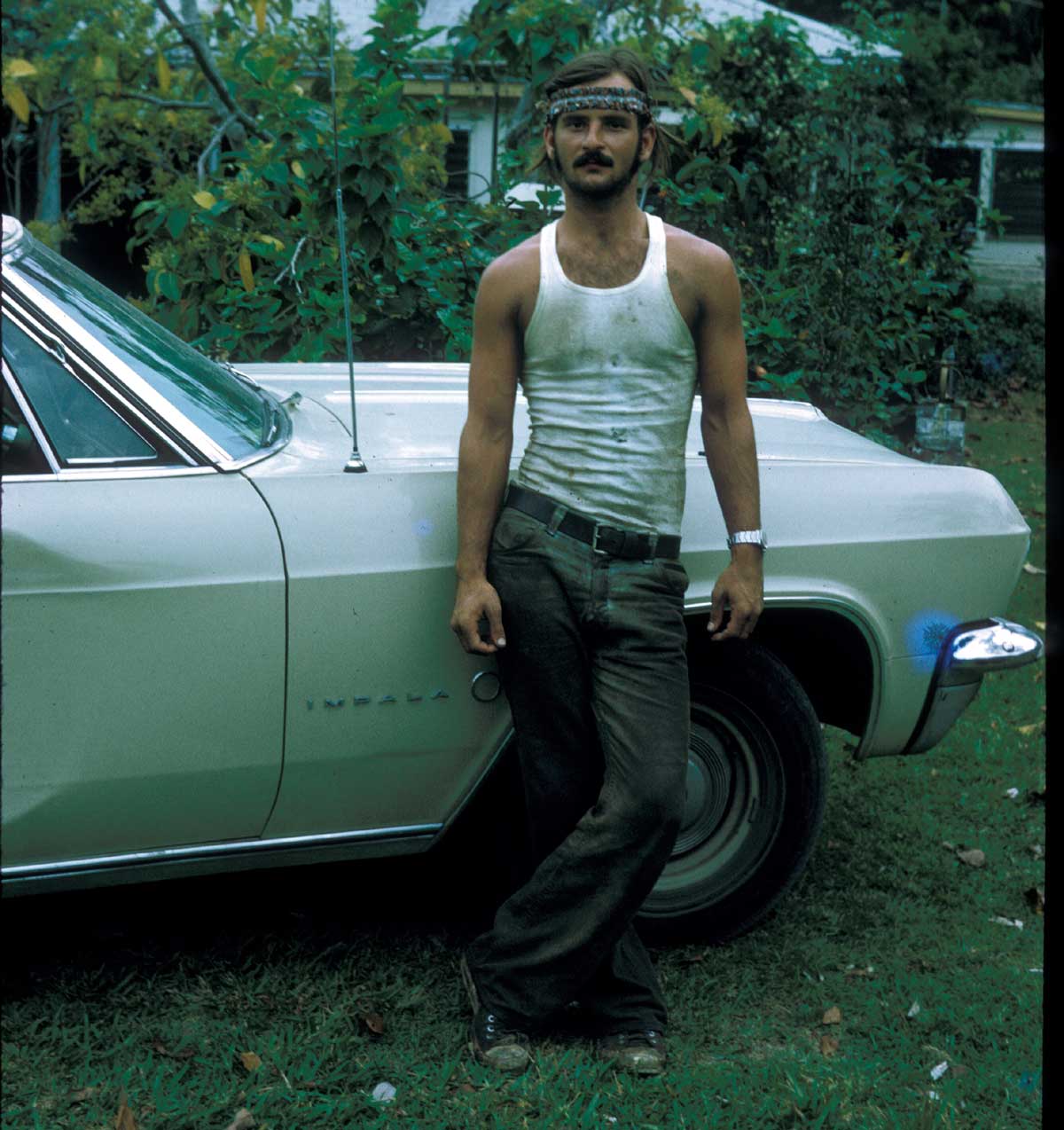 Our families new 65' Chevy Impala, beast By the time I got it, pretty tough shape, that car, that is....
I had been working in a mountaineering shop for a few years after I graduated from the University of Maryland in 1972. I started a cross-country trip in the mid 70's and I needed a reliable car. I bought a new Ford Pinto wagon, with three-speed manual transmission and four cylinder engine. Yes, this was one of those Pintos that used to explode when rear ended because of the location of the gas tank and exhaust system. I thought it was a great car, small, cheap, I could sleep in the back, haul boats on the roof and it got good gas mileage. I even had chains for the rear wheels which allowed me to do some off-roading of sorts.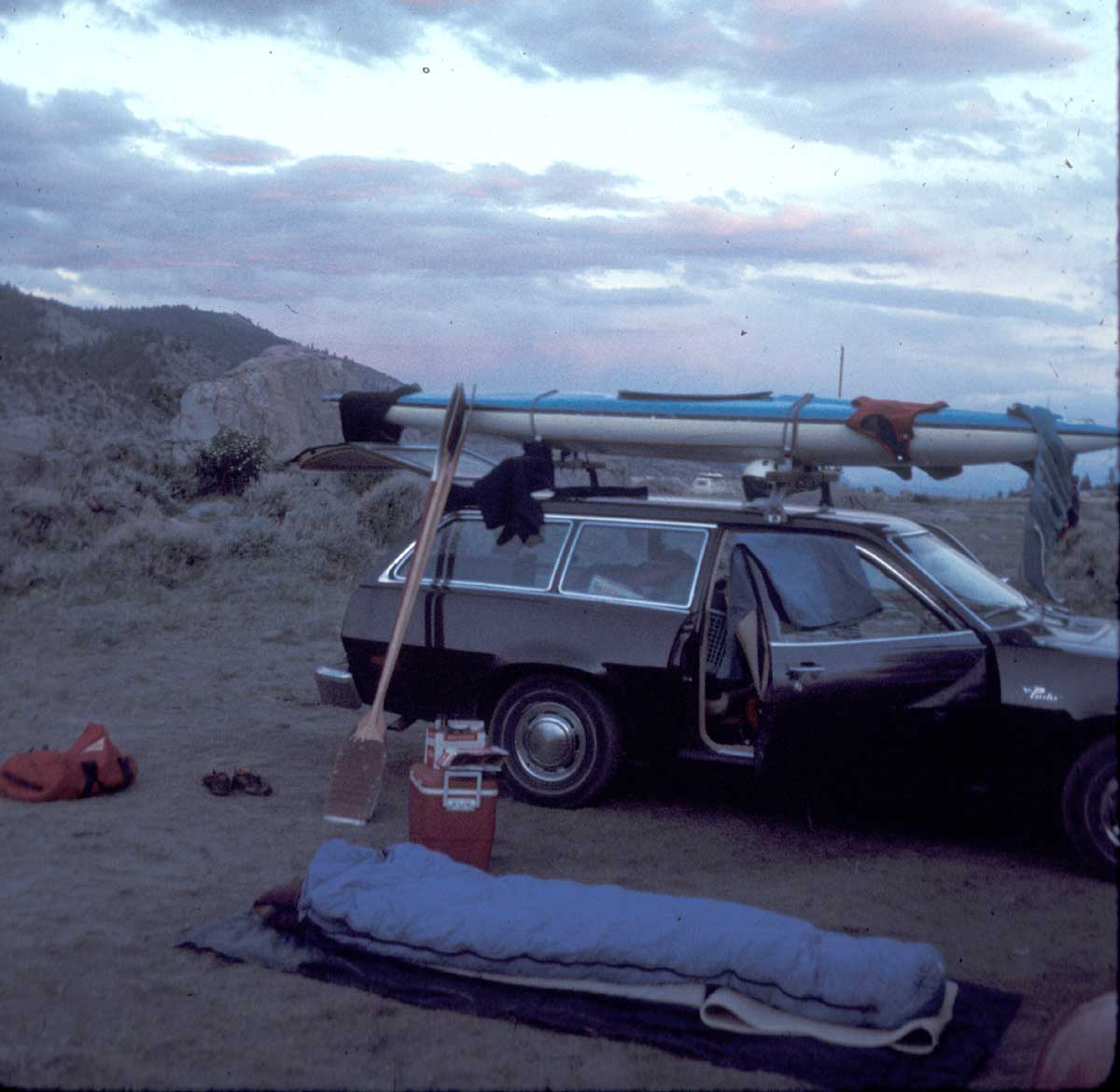 1975 Colorado with Pinto getting ready to run the Arkansas river gorge..
We later moved to a farm and needed more room than the Pinto gave so I got a Toyota pickup. Four speed manual transmission with four cylinder engine. I made an oak toper for the bed and we used the truck for years until we sold it to another HSC faculty member.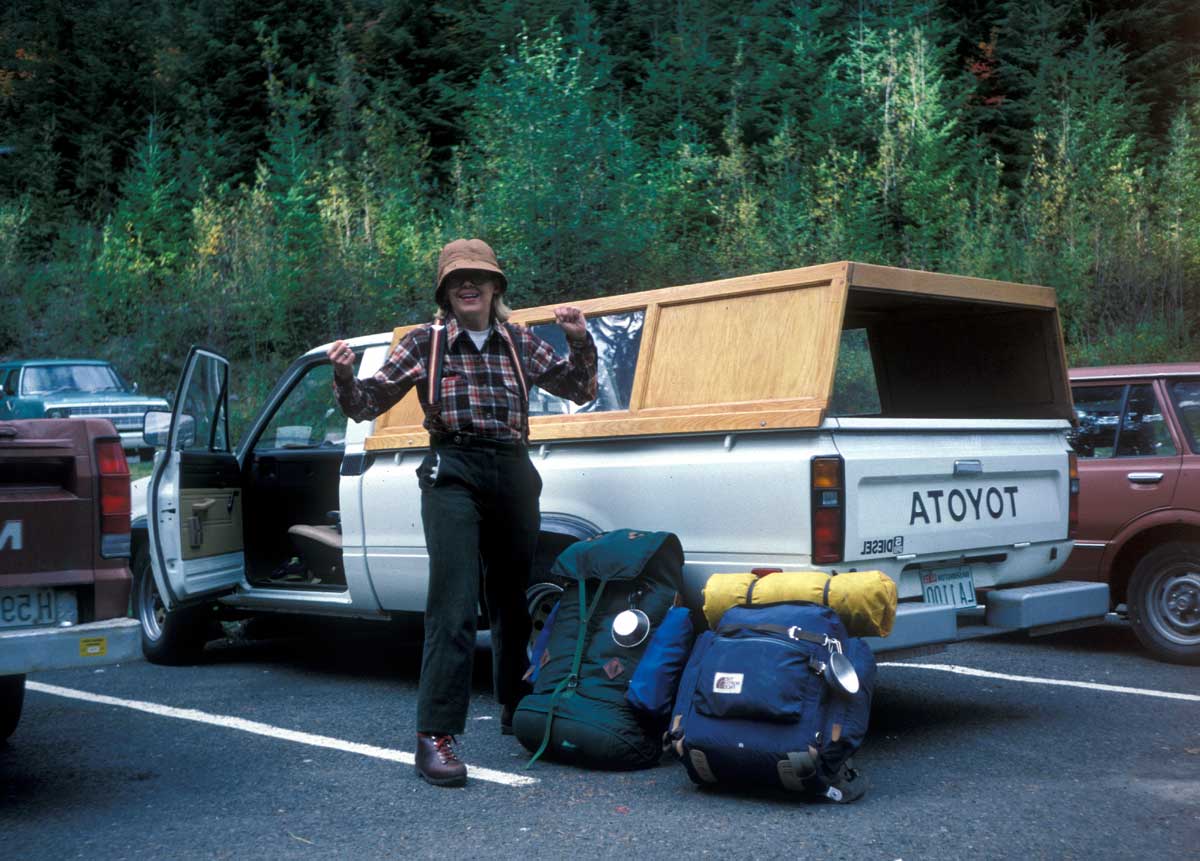 1984 Washington State and Cyndy with our "ATOYOT" pickup
Since then we had a Ford Windstar mini-van and our Subaru Forester (still have the later, a great car). But I have never really gotten a "fun" car, all my cars were always practical vehicles. The last few years some of the folks in the HSC community have been teasing me by driving around in their two-seater convertibles and it got me thinking back to my days with my little Karman Ghia. I loved to drive the little Ghia, but it was no sports car. The engine died in the Ghia and a local gas station had a old Porsche engine he wanted to stuff in the back of the Karman Ghia. I thought about it, but did not have the money and the Ghia was rusting away before my eyes. Still, ever since then I have always wanted to get my hands on a used Porsche......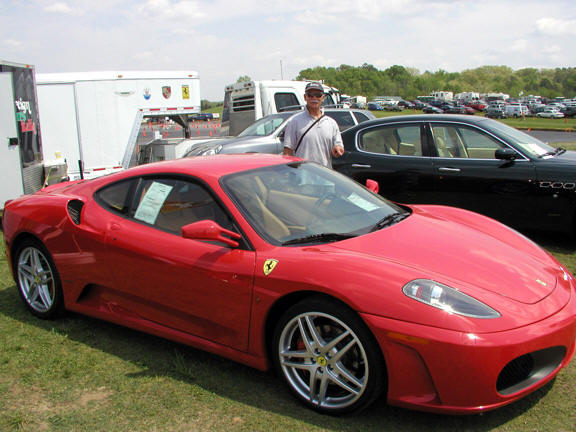 Here I am at Virginia International Raceway April 2008 with son, Patrick showing him what I he could get me for Christmas....