Sophocles' Oedipus and the Sphinx
Plato's Crito
Yet to be illustrated:
What Athens and America have in common
In many ways, ancient Athens holds qualities in common with our modern American cities (as an example, you can visit Dr. J's Illustrated Pericles' Funeral Oration and Philadelphia). But fifth century Athens was much more than a city - it was a culture unto itself, the product of many cultural, political and artistic ideologies and achievements peculiar to this one city-state and this one specific time. Think of the city-states of ancient Greece (much like those of Renaissance Italy, by the way) as major cities such as New York, Philadelphia, and Chicago without the unifying law of a federal system. Each city is known for its special buildings (Empire State and World Trade Center, Independence Hall, Sears Tower), its unique cuisine (steaks, cheesesteaks, pizza), its own sports teams (Yankees!, Phillies and um, the Cubs), public transportation systems (subway, trolley, el) regional accent and slang (Yo!). Yet despite the many differences, all are American cities and their citizens American citizens, all of whom have been called upon in present and past generations to unite against a common enemy. So too the fifth century Greeks (see Dr. J's Illustrated Persian Wars). But just as our own Civil War pit American against American, so too did Greece's Peloponnesian War, the occasion which demands that Pericles give his speech.
Perhaps the modern American city that makes the best comparison with fifth century Athens is Washington D.C., for it too is much more than just a city. As our nation's capital, Washington stirs our patriotic souls. And, in fact, we might be surprised to find that much of our civic pride - as expressed in the architecture and institutions of the federal government - has much in common with Periclean Athens.
Of course, the event that precipitates Pericles' great speech is a funeral - a funeral honoring the nation's war dead. We are told that there is a special place put aside for Athens' fallen soldiers, a suburb just north of the Agora called the Keramikos: "The dead are laid in the public sepulchre, maintained for those who fall in war, in the most beautiful suburb of the city..." Below are a series of photos from the Keramikos in Athens: the Street of Tombs and various grave steles and monuments that archaeologists have recovered/reconstructed. The two photos on the right were taken inside the Keramikos Museum:
But even though the funeral at which Pericles is about to speak takes place in the Keramikos, the historian Thucydides specifically makes mention of Marathon, the unique and storied place that saw 192 Athenians lose their lives during a successful rout of the invading Persians in 490 BC. Those soldiers were buried on the spot where they died, a spot to this day remembered in the minds of men. Although the Athenians are mostly responsible for the victory - a victory that postponed a Persian invasion of Europe - Marathon is a site held dear in the hearts of all Greeks, and indeed, in the hearts of many others as well. The site has such a mystique about it - and means so much to me - that the last time I visited, in the summer of 1998, I couldn't get myself to violate the sanctity of the place by sneaking in after closing hours to snap a picture and commune with the spirits said to haunt the plain. Although no one was around and only a small - easily jumpable - fence prevented entry, it somehow felt disrespectful. So despite my disappointment at having flown half way around the world to find the site closed, I didn't do it. *That* says a lot!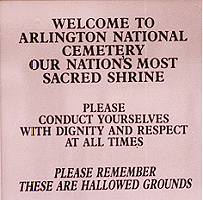 One of the few places in America where one feels the same sense of "civic" sacredness is Arlington National Cemetery, and if you fail to feel this intrinsically (after all, it is a feeling pretty much alien to us outside of a religious setting), the welcoming sign spells it out for you (photo on left). Curiously, a sign at the sacred site of Delphi, in central Greece, suggests the same behavior, and adds a dress code (no bathing suits allowed)! But you cannot help but be awed by the sheer number of graves at Arlington, the simple stones for decorated heroes such as Audie Murphy (WWII), and the commemorative plaque for those lost in the peaceful spirit of scientific inquiry (the Challenger Seven). All here died in the service of their country. Nothing brings Arlington's solemnity home more than a visit on a snowy, dreary day in December:
In about 200 AD, the geographer/historian/keeper of the culture Pausanias says that he saw Pericles' own tomb in the very same celebrated Keramikos, resting place of hoplite and strategos alike. So, too, can Arlington be the final resting place for any serviceman (and his family), general, infantryman or Commander-in-Chief:
Not far down the path from President Kennedy's grave is his brother Robert Kennedy's, who also eventually fell to an assassin's bullet. And on the walls around RFK's memorial are inscribed the calming words he spoke to the nation on the evening of Martin Luther King's assassination: "My favorite poet was Aeschylus. He wrote: 'In our sleep, pain which cannot forget falls drop by drop upon the heart until, in our own despair, against our will, comes wisdom through the awful grace of God.'"
Bobby and John Kennedy, brothers who lost their lives in the service of their country, have much in common with Aeschylus: his brother fought, died and was buried at Marathon and the playwright himself fought at the Battle of Salamis, both Greek victories for freedom at the cost of Greek lives. Aeschylus' patriotism meant so much to him that when he wrote his own epitaph, he highlighted his military service but made no reference to his standing as Greece's greatest playwright (text to come soon...)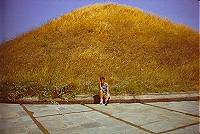 Back to Marathon for a moment. The memorial is two-fold: there is, of course, the tomb wherein the soldiers were cremated and buried (left). But there is also a monument upon which is inscribed the name of each man, according to his tribe (right). The winning entry in the competition for America's Vietnam War Memorial uses the same technique of inscribing fallen soldiers' names in stone. Visitors can look up the names of lost loved ones in a directory so they can find the one name they seek among the 58,209 fallen. And is it a coincidence that this winning design was submitted by Maya Ying Lin, from Athens...Ohio?! I think not! The accompanying sculpture is by Frederick Hart.
Ancient/Modern Ways to
Honor the Missing War Dead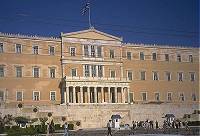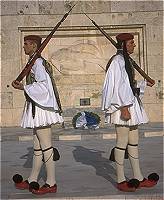 Thucydides tells us that an empty bier (platform on which a coffin would sit) symbolizes the missing dead, not unlike our twentieth century American customs of performing a "fly-over in missing-man formation" in a military funeral, or including a riderless horse in a president's funeral procession. The modern Greek Tomb of the Unknown Soldier is in Syndagma (Constitution) Square, Athens (upper left). Inscribed on the walls surrounding the Athenian tomb are excerpts from Pericles' Funeral Oration (lower right). Depicted in bas-relief on the wall of the Parliament Building is a dying Greek hoplite, or foot soldier (upper right). Evzones, members of the elite military color guard, stand at attention in front of this memorial 24 hours a day.
Now compare Greece's Tomb of the Unknown Soldier to America's at Arlington. The changing of the guard ceremony attracts equal attention (the ceremony is considered very sacred and sombre, in a civic sort of way: it is illegal even to chew gum while watching the ceremony in Washington!):
These same evzones also guard the President's Palace and they can be seen marching through the streets of Athens and at their posts in ritual dress (below). Next time I am in Washington I will take pictures of the police outside the White House for comparison!

Pericles' Patriotic Rhetoric: Sound Familiar?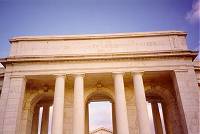 Throughout his speech, starting in the very second paragraph, Pericles stresses the present generation's responsibility to continue the Athenian tradition of honorably answering the call to repel both "Hellenic and foreign aggression." In fact, Pericles devotes more than half of his speech to convincing the Athenians that they should be willing to die for their country just like their fallen compatriots in this war and previous ones: "Choosing to die resisting rather than to live submitting, they fled only from dishonor, but met danger face to face." We cannot help but acknowledge the influence of Pericles' words on JFK, whose speech is inscribed on his memorial: ("In the long history of the world, only a few generations have been granted the role of defending freedom in its hour of maximum danger. I do not shrink from this responsibility--I welcome it." And Pericles' general attitude toward citizens' potentially necessary ultimate sacrifice for their nation is reflected in a famous quotation by the Roman poet Horace 400 years after Pericles' death: dulce et decorum est pro patria mori ("it is sweet and proper to die for your country"). These words, too, have a place in our society: they are inscribed on the marble archway of the Memorial Amphitheater at Arlington National Cemetery (close-up above left).
The Amphitheater
Inside the
Amphitheater

Toward the end of his speech, Pericles shifts gears and tells the women in the audience what is expected of them. How do you think Pericles might have reacted to women being honored for active military service as they are in this country?
MORE TO COME ON ARCHITECTURE... the Lincoln Memorial has much in common with the Parthenon and even more in common with the Temple of Zeus at Olympia...
---
To Dr. J's Illustrated Pericles and Philadelphia
Back to Dr. J's Illustrated Pericles' Funeral Oration
For more information about our nation's war memorials, visit the National Park System's website.
Excerpts of Pericles' Funeral Oration taken from R. Crawely's translation of Thucydides' Peloponnesian War
Back to Dr. J's Home Page
copyright 1999 Janice Siegel
---
copyright 2001 Janice Siegel, All Rights Reserved
send comments to: Janice Siegel (jfsiege@ilstu.edu)
date this page was edited last: 11/27/2005
the URL of this page: