Back to Illustrated Sites of Greece

Dr. J's Illustrated Castalian Spring

Suppliants who came to seek the advice of the oracle ritually washed their hands and hair at the Castalian Spring before entering the sacred precinct. Murderers had to wash the whole of their bodies (please note I wash my hands only!)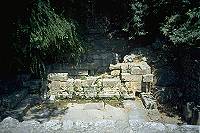 The archaic (590-600 BC) fountain house of the Castalian Spring. Surrounded by benches, the marble-lined basin collected the mountain spring water via its bronze lion-head water spouts.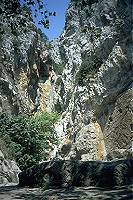 The picture on the far left shows the point where the gorge Arkoudorema divides the Phaedriades...site of the famed den of the Python slain by Apollo. The smaller photo on the left is of the fountain house which dates to Pausanias' Hellenistic times. Local folklore says that w

ater from this spring has mystical healing properties.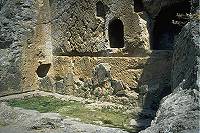 The basin of the Hellenistic era Fountain House, carved into the rock (all that algae covers a basin full of water). The niches were originally used to house votive offerings to the nymph Castalia, later as Christian shrines. The large niche on the right became a church dedicated to St. John the Baptist.