Back to Illustrated Sites of Greece

Dr. J's Illustrated Mt. Parnassos
and Environs
SPECTACULAR VIEWS OF THE PLATEAU OF LIVADI:
The Gulf of Corinth lies behind the mountains on the right. These photos were shot from right outside the Corycian Cave high atop Parnassos. It is not hard to understand why the ancients thought that Deucalion's boat grounded on one of these summits after the Flood.
THE WATERING OF THE GOATS ATOP MT. PARNASSOS:
Right next to the Mt. Parnassos ski center (note the lift and lodge) lies a catch basin for water where the local goat herder, Georgos, waters his considerable herd. Watch as one group is led away and the next bellies up to the bar. When all are satisfied, they trudge off to the left in neat lines to settle in for the night on Mt. Parnassos.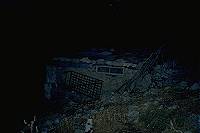 This shack is where the herdsman stays when he remains on the mountain overnight; it is generations old and without any modern conveniences. By the light of an oil lamp, our group of three Greeks and two Americans shared opsimotiri (salty goat yoghurt), home-made krasi (wine), delicious olives, tomoatoes and cucumbers (from Arachova), and an interesting bi-lingual conversation. I guess that makes us cultural ambassadors! And never have I seen as many stars in the sky. Time moves backwards on Mt. Parnassos.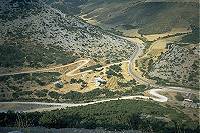 Our well-meaning guide took us to the heights of Mt. Parnassos to look down upon what he thought was the crossroads where Oedipus killed his father...I am afraid this isn't it, but the picture was too good to waste!